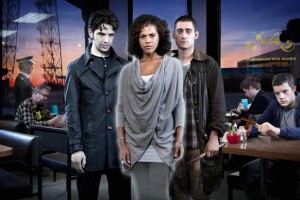 More information to fill the lists for cancelled shows of 2012 and renewed shows of 2012. In this case from across the pond, since the original version of Being Human, from the UK is coming back; and that is good news since BBC renews Being Human for the fifth season.
This one was not a sure bet when season four was to premiere, since two of the original three cast leads left after season three wrapped up, and upping two members to lead status, and that move ultimately meant that Being Human turned out to premiere the season to great ratings, even matching up against True Blood´s season premiere in UK.
What is Being Human about? Plot Synopsis
The central premise of Being Human is that various types of supernatural beings exist alongside human beings, with varying degrees of menace; that three of these supernatural beings are opting to live amongst human beings rather than apart from them; and that these three characters are attempting (as much as is possible) to live ordinary human lives despite the pressures and dangers of their situations. They are constantly threatened with exposure or persecution, with pressure from other supernatural creatures, and with problems caused by their attempts to deal with their own natures.
What do you think? Are you happy BBC renewed Being Human for season five? Do you think it means something for Being Human US chances to go this far? Let me know in the comments section.
Also, remember to follow me on Twitter for more scoop about shows getting renewed as Being Human did.
Comments
comments