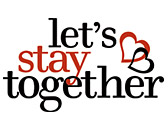 More information to fill the lists for cancelled shows of 2012 and renewed shows of 2012. And this one I knew was coming sooner or later, since BET renewed Let´s Stay Together for season three of the Queen Latifah produced sitcom. Although the announcement is not yet official, it should come next Thursday when the cable network does its annual upfront, and pairs the renewal of Let´s Stay Together to the renewal of The Game for a sixth season.
What is Let´s Stay Together about? Plot Synopsis
This half-hour romantic comedy series features two couples who take the absurd, yet, courageous steps to try to fit their once independent modern lives into the confines of a traditional marriage. Girl-next-door Stacy, 30, a successful pediatrician and Charles, 29, a man's man self-employed contractor, comically navigate the joys and pitfalls of being engaged while her sassier sister Tasha, 25, and her pie-in-the-sky husband, Jamal, also 25, experience the trials and tribulations of raising twins on his lean legal aid attorney salary. All the while Charles' younger sister Kita, 22, struggles to stay sane and single.
What do you think? Are you happy that Let´s Stay Together got renewed for season three? Let me know in the comments section.
Also, remember to follow me on Twitter for more scoop about shows getting renewed as Let´s Stay Together did.
Comments
comments