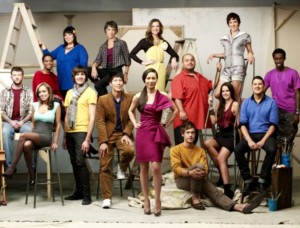 Just when I thought it was going to be a quiet week, more info to add into the lists of cancelled shows of 2012 and renewed shows of 2012; in this case, a goner: Bravo cancels Work of Art: The Next Great Artist.
The show won´t come back after its second season on Bravo, and chances for a third season elsewhere are still looking slim, since the producers are just starting shopping the show around to gather interest for a pickup in another network.
Bravo's "Work of Art: The Next Great Artist" is a creative competition series that seeks to discover new talent and shed light on the artistic process the typically occurs behind closed doors. Assembled in New York City under the watchful eye of art world elites, fourteen up-and-coming artists are ready to make their mark on the industry and battle it out for a solo show at the Brooklyn Museum and a cash prize of $100,000.
China Chow, host and judge, lends her artistic grace to the second season of Bravo's cutting-edge competition that brings fine art dialogue to the forefront of pop culture. Returning to the judging panel is Bill Powers, a New York Gallery owner and literary art contributor, as well as Jerry Saltz, senior art critic for New York Magazine. World-renowned art auctioneer Simon de Pury adds his voice of expertise as a mentor to the contestants.
This season the competition has grown fierce, with artists who have studied under Marilyn Minter, graduated top of their class at Yale and even had their work sold by Simon de Pury. The challenges range from inventive street art to the use of Parkour, a discipline where participants overcome obstacles using only their bodies to move from point A to point B in the most creative way possible, as inspiration. Each week, the contestants are tasked to create an original artwork in the medium of their choice, including – but not limited to, painting, sculpture, photography, collage, industrial design and performance art.
Joining the expert panel each week are professional artists and tastemakers known for challenging the mold in the constantly evolving art world. Guest judges include Adam McEwen, Jeanne Greenberg Rohatyn, KAWS, and Mary Ellen Mark.
What do you think? Are you bummed Bravo cancelled Work of Art: The Next Great Artist? Let me know in the comments section.
Also, remember to follow me on Twitter for more shows getting renewed as Work of Art: The Next Great Artist did scoop.
Comments
comments