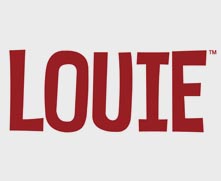 While I am still catching up on all the reporting to do about the TCA´s, it´s time to add more information to the lists of  cancelled shows of 2012 and renewed shows of 2012. And this one comes from the likes of the cabler FX. FX renewed Louie for season four of the critics favourite comedy starring comedian Louie CK.
Season four renewal order for Louie consists of 13 episodes se to be launched in 2013, as the show seems stronger and stronger in the ratings, and pairing those numbers with a lot of praise for the show.
UPDATE: Louis C.K. says his FX show Louie will take an extended hiatus until the spring of 2014, when it will return for its fourth season. During a conference call with reporters today, the comedian said that the decision to take a break was his own. "The last three seasons have been this surge of fun and work and stories and it's been great, but I want the show to keep getting better," he said. "That's my goal, and I don't want it to be making the donuts, I want it to be something that comes from somewhere important and stays funny."
Louie is an American comedy television series on the FX network that began airing in 2010. It is written, directed, edited and produced by the show's creator, stand-up comedian Louis C.K., who stars as a fictionalized version of himself, a comedian and newly divorced father raising his two daughters in New York City. The show has a loose format atypical for television comedy series, consisting of largely unconnected storylines and segments (described as "extended vignettes") that revolve around Louie's life, punctuated by live stand-up performances.
What do you think? Are you happy FX renewed Louie for season four? Let me know in the comments section.
Also, remember to follow me on Twitter for more shows getting cancelled as Louie did scoop.
Comments
comments