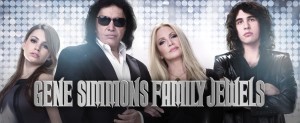 Sometimes shows last a handful of episodes, and sometimes long tenured shows go. All are headed to my lists of cancelled shows of 2012 and renewed shows of 2012, and in this case, it´s a cancellation: A&E cancels Gene Simmons Family Jewels after seven seasons of air. "We could not be more proud of the unparalleled run of Gene Simmons Family Jewels," A&E said in the official announcement of Gene Simmons Family Jewels cancellation.
This season With both kids away at college and Gene's rock star ego at an all time high, Shannon decides she needs to re-evaluate their relationship and leaves her longtime boyfriend.   With Nick and Sophie out of the house, Gene and Shannon must decide if they want to move on with the next phase of their lives together. In the new season, viewers will get a fly-on-the-wall look at the state of Gene and Shannon's relationship as well as personal corners of their life that have never been explored. From Gene's emotional visit to Israel where he meets his father's side of the family that he's never met (including a visit to his estranged father's grave), to tracing Shannon's humble roots in Saskatoon, Canada as well as visits to the troops and a very special, relationship telling, trip to Belize.
What do you think? Are you sad A&E cancelled Gene Simmons Family Jewels? Let me know in the comments section.
Also, remember to follow me on Twitter for more shows getting cancelled as Gene Simmons Family Jewels did scoop.
Comments
comments