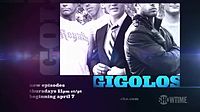 More information to fill the lists for cancelled shows of 2012 and renewed shows of 2012.
And this one is still to be officially announced, but the source is solid, since TVGuide is already reporting that Showtime has renewed Gigolos for season three.
They report it when on an interview with executive producer Richard Grieco who said:
"The one who is definitely out is Jimmy… The show is called Gigolos, not The Jimmy Show. Jimmy got off on a tangent in his personal life, and we don't need that. If he makes amends, we'll see, but as far as I'm concerned, he's done."
Gigolos is getting renewed for season three and they are already teasing with big surprises, so there´s probably going to be a lot of buzz around this show in days and months to come. We´ll see how it turns out. Not really my cup of tea.
Gigolos is an American reality television series about the lives of five male escorts in Las Vegas. The series follows the men, all employees of the same escort agency, through their daily lives and interactions with each other. Cameras also follow the escorts on their appointments with women, including their sexual activity.
What do you think? Are you happy that Gigolos got renewed? Let me know in the comments section.
Also, remember to follow me on Twitter for more scoop about shows getting renewed as Gigolos did.
Comments
comments