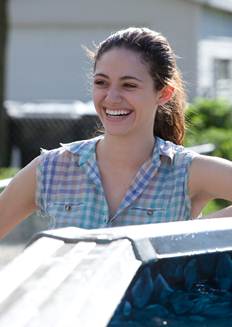 Talk about a good day. I mean, more work for me to keep updating my lists for cancelled shows of 2012 and renewed shows of 2012.
And this we can call the no wonder news, since it was expected, but as always it´s good to have official confirmation and not just a hunch.
Showtime renewed Shameless for season three, the critically-acclaimed drama series Shameless averages 4.75 million weekly viewers across platforms (On Demand, replays and DVR), up 30 percent versus season one. The series ranks as the network's No. 2 rated show behind only Dexter.
From Emmy Award-winning television and film producer John Wells, Shameless stars Academy Award nominee William H. Macy and Golden Globe nominee Emmy Rossum. Season two of Shameless finds our favorite dysfunctional family braving the heat and humidity of summertime in Chicago trying to keep cool…and Frank (Macy) out of trouble. Bearing the de facto parent badge/burden, Fiona (Rossum) spends her nights working at a happening nightclub and her days keeping an eye on Debbie (Emma Keany) and Carl (Ethan Cutkosky) as they run a makeshift daycare center at the house. Meanwhile, brothers Lip (Jeremy Allen White) and Ian (Cameron Monaghan) are toying with the idea of college, while Sheila (Joan Cusack, in her Emmy Award-nominated role) is still housing Frank and making progress with her agoraphobia. As usual, the motley brood somehow manages to hold down the fort and make sure the bills are paid, the lights are on and there is food on the table. Based on the long-running hit UK series, Shameless is executive produced by Wells, Paul Abbott and Andrew Stearn. Shameless is from Bonanza Productions Inc. in association with John Wells Productions and Warner Bros. Television.
What do you think? Are you happy Showtime renewed Shameless for season three? Let me know in the comments section.
Also, remember to follow me on Twitter for more shows getting renewed as Shameless did
Comments
comments