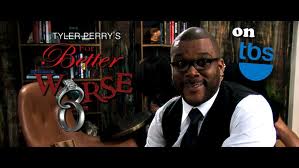 Every week there´s more info to add cancelled shows of 2012 and renewed shows of 2012, and this is from the sitcom´s arena.
Tyler Perry´s For Better of Worse gets renewed for 35 more episodes in a not so shocking turn of events. After all, Tyler Perry is always getting renewed."Tyler Perry's shows have proven to be a popular draw for TBS on Friday nights," said TNT and TBS' head of original programming Michael Wright. "We're very happy to keep that trend going by ordering more episodes of Tyler Perry's For Better Or Worse."
In a same fashion as Anger Management deal, but with fewer episodes, Tyler Perry´s For Better or Worse was greenlit for a first ten episode season, and now getting an upgrade for 35 more.  For Better Or Worse ranked as basic cable's No.1 sitcom of 2011 and the No.1 show on all of television with African-American adults. So, Tyler Perry knows his audience very well, and delivers there in great fashion, having all three of his shows healthy and steady, since House of Payne and Meet The Browns also got picked up after those ten initial episodes.
Although this 35 episodes order does not meet the requirement to syndication just yet, it´s well on its course.
What do you think? Are you happy TBS renewed Tyler Perry´s For Better or Worse for 35 more episodes?
Also, remember to follow me on Twitter for more shows getting renewed as Tyler Perry´s For Better or Worse did.
Comments
comments