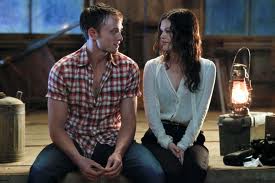 More information to fill the lists for cancelled shows of 2012 and renewed shows of 2012. This one goes for all the Rachel Bilson´s fans all over to celebrate, since CW renewed Hart of Dixie for season two. One can say a lot about the show, about its believability, about the dialogs, and even about the crocodile, but one can´t argue agains the cuteness of the show. And a fit between the show, the audience and the network.
Fast-talking New Yorker and brand new doctor Zoe Hart has it all figured out—after graduating top of her class from medical school, she'll follow in her father's footsteps and become a cardio-thoracic surgeon. But when her dreams fall apart, Zoe decides to accept an offer from a stranger, Dr. Harley Wilkes, to work with him at his small practice in Bluebell, Alabama. Zoe arrives in this small Gulf Coast town only to find that Harley has passed away and left his half of the medical practice to her in his will.
She quickly finds that Southern hospitality isn't always so hospitable—the other doctor in town, Brick Breeland, is less than pleased to be sharing the practice with this young outsider, and his daughter, Lemon, is a Southern belle whose sweet disposition turns sour when she meets Zoe. Zoe's only allies are the mayor, former football star Lavon Hayes, her bad-boy neighbor Wade Kinsella, and handsome lawyer George Tucker – who just happens to be Lemon's fiance. Zoe is out of her element and ready to pack her bags, but a surprise visit by her snobby New York mother leads to Zoe's decision to stay in Bluebell for a while, discovering small-town life and a side of herself she didn't know was there.
What do you think? Are you happy that Hart of Dixie got renewed? Let me know in the comments section.
Also, remember to follow me on Twitter for more scoop about shows getting renewed as Hart of Dixie did.
Comments
comments