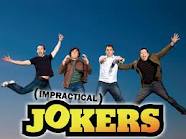 More information to fill the lists for cancelled shows of 2012 and renewed shows of 2012.   This time comes as a trend renewal, Betty White´s Off Their Rockers have been renewed by NBC, MTV has Punk´d, and now TruTV renewed Impractical Jokers to a second season, and you get the third type of pranksters show. One for each taste. Mine, for instance has me watching Off their rockers and Impractical Jokers, and far far away from Punk´d. But there´s viewers for all three.
Impractical Jokers premiered to critical acclaim last December and quickly became one of truTV's biggest hits, especially among young adults. Since its premiere, the show has averaged 2 million viewers in its first season, including more than 1.3 million adults 18-49 and 773,000 men 18-49.
truTV has ordered 15 episodes for the second season of Impractical Jokers renewal, with plans to launch the new season in December 2012.
What is Impractical Jokers about? Synopsis
Ever since they were little kids growing up together, Q, Murr, Joe and Sal have challenged one another to do the most ridiculous public dares imaginable. Now, to find out who's best under pressure, they're competing in unbelievably awkward and outrageous hidden-camera hijinks. Then, at the end of each episode, the loser must attempt the most mortifying challenge ever.
What do you think? Are you happy that Impractical Jokers got renewed? Let me know in the comments section.
Also, remember to follow me on Twitter for more scoop about shows getting renewed as Impractical Jokers did.
Comments
comments