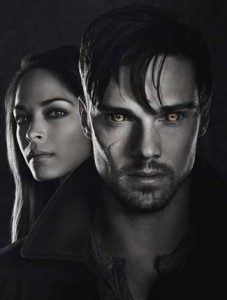 Another full season pickup to be added to the lists of cancelled shows of 2012 and renewed shows of 2012. In this case, as The CW renews Beauty and the Beast for full season pickup, leaving one less freshman show in the bubble.
The order consists on nine extra episodes, given to the show since it is gaining ratings lately. The CW has launched a couple of  successful freshman shows this pilot season, as Arrow also got renewed for full season pickup. So the rebirth of this classical romance series from the nineties is being healthy in its comeback
What is Beauty and the Beast about? Plot Synopsis
Catherine "Cat" Chandler (Kristin Kreuk, "Smallville," "Chuck") is a smart, no-nonsense homicide detective, who is haunted by her own tragic past. When she was a teenager, Cat witnessed the murder of her mother at the hands of two gunmen. Cat would have been killed too, but someone – or something – saved her. No one has ever believed her, but she knows it wasn't an animal that attacked the assassins…though it was strange and terrifying, it was human.
Years have passed, and although she thinks about her mother every day, Cat is now strong and confident, a capable police detective working with her equally talented partner, Tess Vargas (Nina Lisandrello, "Nurse Jackie"). The two women make a good team, and have become close friends while working on countless homicide cases under the supervision of their tough-but-fair boss, Joe Bishop (Brian White, "The Shield," "The Cabin in the Woods"). Cat has also become close to another co-worker, the medical examiner Evan Marks (Max Brown, "The Tudors," "MI-5"), and they've developed a fun, flirtatious relationship that could easily turn into something deeper – if Cat would let that happen. However, much to the concern of her younger sister, Heather (Nicole Gale Anderson, "Make It or Break It"), Cat's romantic inclinations tend toward bad boys.
While investigating a new case Cat and Tess discover fingerprints that lead to a handsome doctor named Vincent Keller (Jay Ryan, "Terra Nova"), who was reportedly killed by enemy fire while serving in Afghanistan in 2002. Digging deeper, Cat learns that Vincent is actually still alive. For mysterious reasons that have forced him to live outside of traditional society, Vincent has been in hiding for the past 10 years. With the help of his childhood friend J.T. Forbes (Austin Basis, "Life Unexpected"), Vincent has been able to guard his terrible secret – when he is enraged, he becomes a terrifying beast, unable to control his super-strength and heightened senses. Cat is stunned when Vincent admits he was the "animal" who saved her the night of her mother's murder. Vincent doesn't admit the whole truth – he is emotionally tied to Cat and has been watching over her for years.
Cat agrees to protect Vincent's identity in return for any insight he may have into her mother's murder. Thus begins a complex relationship between Cat and Vincent, who understand that their connection is extremely dangerous for both of them. Cat's secret obsession with Vincent puts a strain on her relationship with everyone around her, and Tess is especially troubled by the feeling that Cat is keeping something from her.
Perhaps the most surprising element of their relationship is that Vincent soon becomes a secret but important part of Cat's detective work. During the years he spent hiding in the shadows, watching over Cat and other innocents, Vincent learned a lot about the darkest parts of the city and the people who live there. His sharpened instincts, incredible strength and human compassion become invaluable to Cat as she works to bring criminals to justice.
As she slowly comes to terms with Vincent's monstrous alter-ego, Cat senses she can trust him in ways she hasn't been able to trust any man before and, despite the obstacles between them, she realizes that she's safer with him than anywhere else.
What do you think? Are you happy The CW renewed Beauty and the Beast for full season pickup? You can also follow me on Twitter for more scoop on shows getting renewed like Beauty and the Beast has.
Comments
comments