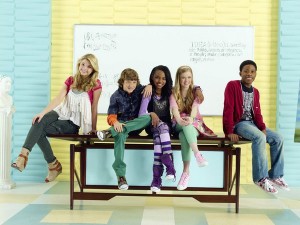 Today is another busy day for the lists of cancelled shows of 2012 and renewed shows of 2012, and this time we are talking about something for the kids, as Disney Channel renews A.N.T. Farm for season three. For those who think it´s about ants, it´s not, as A.N.T. stands for Advanced Natural Talents, and it´s a show about musical prodigies, headlined by Chyna Parks.
It was announced today by Adam Bonnett, Senior Vice President, Original Programming, Disney Channels Worldwide. Production resumes in Los Angeles this December with season three scheduled to premiere in June 2013.
"A.N.T. Farm" takes an exciting turn in the third season when musical prodigy Chyna Parks and her friends, Olive Doyle and Fletcher Quimby plus Lexi Reed, who reveals her own prodigious talent, are accepted to a prestigious A.N.T. (Advanced Natural Talents) boarding school. With an unconventional curriculum and the opportunity to learn from other students in the program, the A.N.T.s strive to take their abilities to the next level.
"'A.N.T. Farm' is a series that was initially inspired by our audience's love for stories about uniquely talented kids," said Bonnett. "Our new direction for season three allows us more opportunities to showcase the A.N.T's, their unique talents and the dedication it takes to follow your dreams."
The series was created by Dan Signer ("The Suite Life on Deck," "The Suite Life of Zack & Cody") and is executive-produced by Signer and Stephen Engel ("The Big Bang Theory," "Mad About You," "Dream On"). Starring are: China Anne McClain as Chyna Parks, Sierra McCormick as Olive Doyle, Jake Short as Fletcher Quimby and Stefanie Scott as Lexi Reed.
What do you think? Are you happy Disney Channel renewed A.N.T Farm? Let me know in the comments section.
Also, remember to follow me on Twitter for more scoop on shows getting renewed as A.N.T Farm did.
Comments
comments