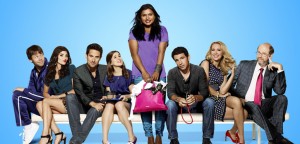 The new comedies from this fall season are coming to the lists of cancelled shows of 2012 and renewed shows of 2012. Now it´s time for Fox to renew The Mindy Project for a full season order pickup. And they did so today, Fox has picked up nine additional episodes of The Mindy Project, bringing the new Tuesday night comedy to full-season order, it was announced today by Kevin Reilly, Chairman of Entertainment, Fox Broadcasting Company.
"BEN AND KATE and THE MINDY PROJECT have everything we want to stand for in comedy: smart writing, hugely appealing casts and comedy that feels contemporary and real – which is why we're confident they will continue to build on what is already an appointment comedy night for young, influential audiences on Tuesdays," said Reilly.
Created and written by Mindy Kaling ("The Office"), THE MINDY PROJECT stars Kaling as a skilled OB/GYN trying to balance both her personal and professional life.
THE MINDY PROJECT is produced by 3 Arts Entertainment in association with Universal Television. The series is created and written by Mindy Kaling. Kaling, Howard Klein ("The Office," "Parks and Recreation"), Matt Warburton (THE SIMPSONS) and Michael Spiller ("Modern Family") are executive producers.
What do you think? Are you happy Fox renewed The Mindy Project for a full first season? Let me know in the comments section.
Also, remember to follow me on Twitter for more scoop on shows getting renewed as The Mindy Project did.
Comments
comments