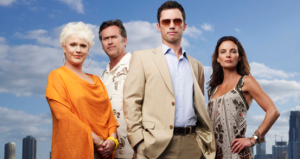 After the addition of two straight dramas from USA to the list of cancelled shows of 2012, it was about time to add one to the list of renewed shows of 2012. So, now, I´m happy to learn that USA renewed Burn Notice for season seven of, initially, thirteen more episodes, an order a bit smaller than previous seasons. Royal Pains renewal order was also for thirteen more episodes, so I wouldn´t read to much into it.
What is Burn Notice about? Plot Synopsis
Season six of this summer favorite picks up after Fiona (Gabrielle Anwar) turned herself in on charges of terrorism to save Michael (Jeffrey Donovan) from an extreme case of blackmail. With Fiona in federal custody, Michael and his crew must band together to rescue their friend from a lifetime prison sentence.
"Burn Notice" was created, written and executive produced by Matt Nix ("The Good Guys", "Chasing Vermeer"). Mikkel Bondesen ("Catch That Kid") and Alfredo Barrios ("Justice") also serve as executive producers. The series comes from Fox Television Studios and Fuse Entertainment.
Season Six of Burn Notice returns on november 8 with a two hours episode.
What do you think? Are you happy USA renewed Burn Notice? You can also
follow me on Twitter for more scoop on shows getting renewed like Burn Notice has.
Comments
comments