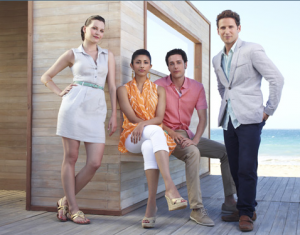 In a very expected turn of events, USA is bringing more shows to join the lists of cancelled shows of 2012 and renewed shows of 2012, in this case, as USA renews Royal Pains for seasons five and six.
Season five and six renewal order for Royal Pains adds 26 more episodes to the run of the show, and with the addition of a Christmas Special about Evan´s wedding, the show is on a roll with the good news.
It´s not at all surprising to see USA renewing Royal Pains for two more seasons, since the cabler has just finished an unprecedented seventh consecutive summer win as cable's #1 network across all key demos, and one of the staples for that win is precisely Royal Pains.
ROYAL PAINS follows talented young doctor Hank Lawson (Mark Feuerstein) a disgraced New York City physician who reinvents himself as the Hamptons' hot new doctor-on-demand to the rich and famous. The drama also stars Paulo Costanzo, Reshma Shetty and Brooke D'Orsay. On December 16, USA will offer a two-hour movie event "Off-Season Greetings," an intimate look at the backstory of the Lawson brothers and a celebration of the long-awaited nuptials of Evan (Costanzo) and Paige (D'Orsay). From Universal Cable Productions, ROYAL PAINS is written and executive produced by Andrew Lenchewski and Michael Rauch. Paul Frank and Rich Frank also serve as executive producer along with Jeff Kwatinetz from Prospect Park and Connie Burge. Carol Flint, Jon Sherman, Kerry Orent and Jack Bernstein co-executive produce.
What do you think? Are you happy USA renewed Royal Pains? Let me know in the comments section.
Also, remember to follow me on Twitter for more scoop on shows getting renewed as Royal Pains did.
Comments
comments