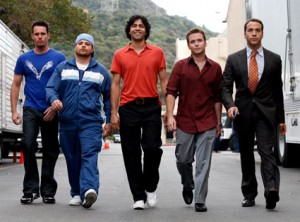 We are reviewing all the cancelled shows and renewed shows of the season.
HBO has announced the renewal of Entourage for an extra season.
Entourage is a dramedy broadcast on HBO and created by Doug Ellin, that chronicles the rise of Vincent Chase, a young A-list movie star, and his childhood friends from Queens, New York City, as they navigate the unfamiliar terrain of Hollywood, California. Mark Wahlberg and Stephen Levinson serve as the show's co-executive producers, and the show's premise is loosely based on Wahlberg's experiences as an up-and-coming movie star.
What is Entourage about? – Plot
Entourage chronicles Vincent Chase's adventures as he climbs the celebrity ladder after his first successful movie: Head On. At the forefront of the first few episodes is the conflict between Vince's best friend "E" and his agent Ari, who are both working to get the best for Vince, but often differ on how to accomplish this.
Vince's next project is decided halfway through the season: Queens Boulevard. Signed on is indie director Billy Walsh, who comes into immediate conflict with E. Eventually their differences are put aside and the season ends with the start of production on Queens Boulevard, with E formally becoming Vince's manager.
Running subplots include: Turtle's laziness and quest for marijuana; Drama's attempt to follow in his younger brother's footsteps; E dating Ari's assistant Emily (Samaire Armstrong); and Vince's many and varied girlfriends.
So, are you happy that Enoturage gets renewed for a seventh season by HBO?
Comments
comments