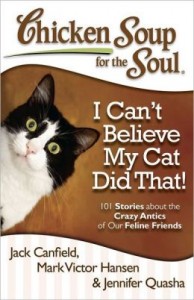 Another book review done in Spanish by Dayana in her blog and in English here for us.
As we are already doing the Cat Lady Training Infographics, this book is for us perfect inspiration, and the title suits the book perfectly, as it compiles 101 stories of incredible things done by cats. And in some of those we can feel identified, as our own cats did the same of pretty similar crazy stuff.
As every Cat Lady (or Catman) knows, these family members have the ability to make us laugh with their quirks or full blown madness, and this 360 pages book have captured that essence correctly.
It is an amazing book as a gift for that Cat Person in your life, and one of those books that you just can´t leave on the nightstand until we finish them.
If you are in this book review, there´s a chance you like Cat stuff, so here I am also going to point you to read Cat Vs Human by Yasmine Surovec, and Simon´s Cat YouTube Videos, as you are probably going to enjoy both of those as much as I do.
Just as a quick note, the cat in the cover of the book looks exactly like one of the stray cats I feed at home, one I call "Amunike".
Paperback: 368 pages
Publisher: Chicken Soup for the Soul; Original edition (September 18, 2012)
Language: English
ISBN-10: 1935096923
ISBN-13: 978-1935096924
How to Buy Chicken Soup for the Soul: I can't believe my cat did that?
Have you read this book? Follow me on Twitter for more book reviews.
Comments
comments