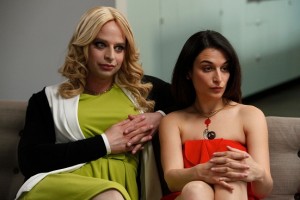 A lot of movement on the lists of renewed shows of 2013 and cancelled shows of 2013, in this case, an early pickup as Comedy Central renews Kroll show for a second season of the breakout sketch show. Kent Alterman, President, Content Development and Original Programming, Comedy Central announced that season two renewal order for Kroll Show is for ten episodes. "Nick plays his characters with such comedic conviction, it's become obvious he has a serious personality disorder," said Alterman. "We hope another season will help him discover who he really is."The premiere episode of "Kroll Show" on January 16 drew 1.4 million total viewers and was the #1 show in all of television on Wednesday in its 10:30 p.m. timeslot among Men 18-34 and Men 18-24. It was also #2 in cable with Men 18-34 and #3 in all of television with Men 18-24 on Wednesday night. Across the premiere and two encore replays that night, "Kroll Show" attracted over 2.0 million total viewers and 1.6 million People 18-49.
Fans of the show and of Kroll (@nickkroll) are treated to sketches featuring many of their favorite characters, including Kroll and Jenny Slate as two publicists both named Liz in the reality series "PubLIZity;" Kroll as "Bobby Bottleservice" and Jon Daly as his sidekick, "Peter Paparazzo;" "Aspen Bruckenheimer" and "Wendy" (a.k.a. the "Rich Dicks"); "Dr. Armand," the premier canine plastic surgeon; and the incomparable "Fabrice Fabrice." Guest stars from the first season included Fred Armisen, Andy Daly, Kathryn Hahn, Ed Helms, Rob Huebel, Andy Milonakis, John Mulaney, Chelsea Peretti and Adam Pally.
What do you think? Are you happy Kroll Show got renewed? You can also follow me on Twitter for more scoop on shows getting renewed like Kroll Show has.
Comments
comments