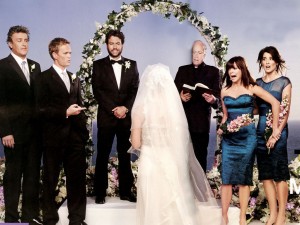 When making the lists of renewed shows of 2013 and cancelled shows of 2013 I was a bit preoccupied about the fate of this one, not because CBS wouldn´t want the show to come back, but because the show stars have become so big that they were doubting about coming back. Now, finally it´s official that CBS renews How I Met Your Mother for final ninth season, as the network secured one more year of the full cast, after Jason Segel, the most hesitant to come back agreed to one more year for the laffer. Ultimately, the decision came down to loyalty and giving show creators and the networks, and the fans to get closure and find out who the mother actually is, and maybe even a couple of extra episodes to get to know her.
Final season renewal for How I Met Your Mother will consist of a full season, aiming at probably 22 episodes to be airing late 2013 and 2014. "We're thrilled to have the entire and incredibly talented How I Met Your Mother cast back for one final season to bring the series to a proper close," said the official 20th Century Fox Television statement. "Carter Bays and Craig Thomas are masterful and hilarious storytellers, and we have no doubt that they will guide one of the greatest comedies of the last decade to a gratifying conclusion when they finally reveal the identity of the Mother."
What do you think? Are you happy HIMYM got renewed for one final season? You can also follow me on Twitter for more scoop on shows getting renewed like HIMYM has.
Comments
comments