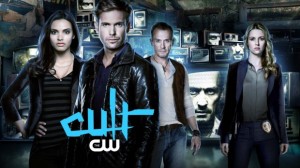 The writing was on the wall, after all, this show had five episodes of snoozefest ratings, before CW moved the show to Fridays, when it even tanked lower, and now, after episode seven aired, CW cancels Cult and takes it out of schedule effective immediately.
The thing is that the show had a solid cast, but the premise of the show wasn´t compelling enough, and neither was a good fit for the network; but probably the thing that hurts the most is that the show will be replaced with reruns of Oh Sit, the extreme musical chairs show; yup, that´s gotta hurt some EP´s egoes.
The show was supposed to be 13 episodes, and all of those have already been filmed, so there´s a possibility that the remaining episodes get to see the light of day, but it can be on a summer run (not likely), or online (more likely).
The show is about a fictitious show, centered on the cat-and-mouse game between a charismatic cult leader and the detective who was once a cult member, has become an obsession for its viewers – and now some of its devotees seem to be taking their fixation to deadly extremes in the real world.
The real show, however, did not become an obsession for anybody.
What do you think about this? Are you sad Cult got cancelled? Follow me on Twitter for more scoop on shows getting cancelled like Cult, or check the complete and updatable lists of renewed shows of 2013 and cancelled shows of 2013.
Comments
comments