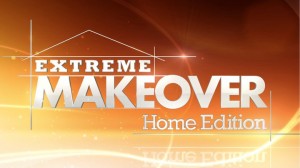 Even though this show has been cancelled; it is coming back for four holidays special, since tis the season of heartwarming television.
The heart-tugging, original feel-good series, "Extreme Makeover: Home Edition," returns to ABC with four special holiday-themed episodes. The first episode will premiere MONDAY, NOVEMBER 26 (9:00-11:00 p.m., ET), immediately following the "Dancing with the Stars: All-Stars" Performance Finale on the ABC Television Network. The remaining three episodes will air on the following three Mondays, December 3, December 10 and December 17.
MONDAY, NOVEMBER 26 (9:01-10:00 & 10:00-11:00 p.m., ET):
WATSON FAMILY – Guest host Jenny McCarthy visits the Watson Family of Knoxville, TN in a special Thanksgiving-themed show. The Watson family has adopted children and runs a home for single mothers in need called Restoration House. The episode features a visit to the "Wipeout" set and an appearance by UFC Champion fighter Jon "Bones" Jones.
MONDAY, DECEMBER 3 (8:00-9:00 & 9:00-10:00 p.m., ET):
ZDROJ FAMILY – In a special Christmas-themed episode, host Ty Pennington visits the Zdroj Family of Smithville, TX. Mizzy Zdroj is a female firefighter volunteer whose own home was destroyed by the largest wildfire in Texas history. The episode features an appearance by BMX biker Matt Hoffman, Chef Art Smith and some special guests from "Star Wars."
MONDAY, DECEMBER 10 (8:00-9:00 & 9:00-10:00 p.m., ET):
FRIDAY FAMILY – Host Ty Pennington brings a special holiday surprise the Friday family of Lincolnton, NC. The Fridays have been foster parents to more than 30 children, including adopting a family of five siblings. The episode features an appearance by racecar driver Michael Waltrip, the NBA Charlotte Bobcats' female dance troupe, and even The Grinch shows up to help with the build.
MONDAY, DECEMBER 17 (8:00-9:00 & 9:00-10:00 p.m., ET):
HARRIS FAMILY – Host Ty Pennington and the team of designers visit the Harris family of Smithville, TX for a Christmas-themed wounded veteran episode. While on patrol in Iraq, Shilo Harris was wounded by a massive IED blast. Shilo now fights for other wounded warriors to find jobs and emotional support upon their return to civilian life. The episode features appearances by J.R. Martinez ("Dancing with the Stars," "All My Children") and Country Music superstar Lee Greenwood, who performs "God Bless the U.S.A."
You can also check out the full Holidays and Christmas Programming Guide I did. Or follow me on Twitter or Pinterest for more info on Holidays Specials.
Comments
comments