On a day with a barrage of cancellations from NBC, axing Deception, Guys With Kids, Whitney, Up All Night and 1600 Penn, it´s time to move to Fox, cancelling Touch after its second season, and what would´ve served as a season finale will now be series finale. The show had a very interesting premise and quite an impressive creative and aesthetical first season that granted a second season with retooling attempting to gain in the ratings, but failed to do so, making Fox to cancel Touch. And this one, among those announced today is the one that surely stings the most as it was a good show. But, to make things easier to swallow and digest, Fox may be reviving 24 for a special series.
The show could be brought back as a limited series and, even though there´s no official word on the status of negotiations, it is said, as Deadline.com reports that Kiefer Sutherland is in the early stages of the talking process to bring back Jack Bauer to life.
After all, 24 never had a proper send off, and this limited series could very well be it.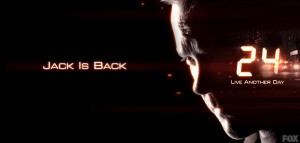 FOX has ordered 24: LIVE ANOTHER DAY, a thrilling new tent-pole event series set to restart the clock on the groundbreaking and Emmy Award-winning drama franchise starring Kiefer Sutherland. Produced by 20th Century Fox Television, Imagine Television and Howard Gordon's Teakwood Lane Productions, 24: LIVE ANOTHER DAY will make its historic debut in the summer of 2014 on FOX.
The announcement was made this morning by Kevin Reilly, Chairman, Fox Broadcasting Company; Dana Walden and Gary Newman, Chairmen, Twentieth Century Fox Television; and Brian Grazer, Chairman, Imagine Entertainment.
The high-octane saga will reunite showrunner Howard Gordon with Sutherland and retain the real-time, pulse-pounding, fast-paced format with split screens and complex interweaving storylines, with 12 episodes representing 24 hours. The suspenseful event series once again follows the exploits of heroic agent JACK BAUER (Sutherland), who will resume his story several years following the events of the final season.
"It's great to have Jack back. '24' redefined the drama genre, and as we reimagine the television miniseries, this iconic show will again break new ground for the network," said Reilly. "The series remains a global sensation, and everyone at FOX is thrilled to be back at work with Kiefer, Howard and the incredibly creative '24' team."
"When Howard came to us saying he had an idea for a new chapter of '24,' he quite simply had us at 'hello,'" remarked 20th Century Fox Television Chairmen Gary Newman and Dana Walden. "'24' is a signature series for this studio, beloved by critics and audiences worldwide. Howard's idea to revive the franchise as an event series couldn't be timelier, and with the brilliant Kiefer Sutherland on board to reprise his iconic role, we can't wait to get started."
Added Imagine Television Chairman Brian Grazer, "I'm both excited and proud that Howard, Kiefer, and I, along with ours partners at 20th and Fox, have this new opportunity to give '24' fans what they've been asking for – more Jack Bauer. It's been my experience that people love Jack Bauer because he's a guy who cuts through the red tape and gets the hardest things done. I am certain 24: LIVE ANOTHER DAY will again have a huge impact on our culture."
"The response to '24' is unlike anything I have ever experienced as an actor before," noted Sutherland. "To have the chance to reunite with the character, Jack Bauer, is like finding a lost friend. The story ideas from Howard Gordon are exciting and fresh, and will not disappoint. Great thanks to 20th Century Fox Television, Imagine Television and the FOX network for this opportunity. Make no mistake, my goal is to knock your socks off. See you soon."
"Jack Bauer has always been an exciting, thrilling character, and I confess that I've missed him. I think the audience has too," said executive producer Howard Gordon who served as showrunner for most of the series' run and won multiple Emmy Awards for his work. "The character has evolved through the years, and this new and exciting event series format is perfect to tell the next chapter of his story and continue to reflect how the world is changing. Fans can rest assured that the Jack they know and love will be back."
Originally premiering November 6, 2001, '24' was nominated for a total of 73 Emmy Awards, winning for Outstanding Drama Series in 2006. Over eight seasons, Kiefer Sutherland garnered seven Emmy Award nominations and one win for Outstanding Lead Actor – Drama Series. While the series gained global recognition, Sutherland's portrayal of the legendary character penetrated the American psyche like no other dramatic television character to become part of the cultural lexicon.
So, one of salt, one of pepper: Fox cancels Touch, but may bring 24 back.
What do you think? Are you sad Touch got cancelled? Excited 24 may return? Follow me on Twitter for more scoop on shows getting cancelled like Touch, or check the complete and updatable lists of renewed shows of 2013 and cancelled shows of 2013.
Comments
comments