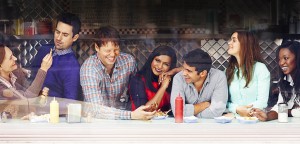 This is one of those little lovely shows you like and want to see getting the callback but rarely do. Well, Fox is doing things right, and now The Mindy Project is getting renewed for a third season. A perennial on the bubble show, it has managed to get the early pickup, and it is thriving creatively so far in season two.
Created and written by Mindy Kaling ("The Office"), THE MINDY PROJECT stars Kaling as a skilled OB/GYN trying to balance both her personal and professional life. The special one-hour Spring Premiere, featuring back-to-back episodes of THE MINDY PROJECT, airs Tuesday, April 1 (9:00-9:30/9:30-10:00 PM ET/PT) and then returns to its normal timeslot on Tuesdays at 9:30 PM ET/PT.
Dr. MINDY LAHIRI (Kaling) is a talented obstetrician with a hectic personal life, who struggles to find the right guy, the right outfit and the right attitude. Mindy shares a practice with two doctors, neither of whom makes life any easier for her. Dr. DANNY CASTELLANO (Chris Messina) is a hothead and a guys' guy who criticizes her for everything, including her struggling love life and her lack of professionalism – even though it's obvious to everyone except Mindy that he secretly admires her work. In contrast, Dr. JEREMY REED (Ed Weeks) is the walking definition of bad news, and everything comes easy to this suave skinny jean-wearing Brit.
Rounding out the medical staff is male nurse MORGAN TOOKERS (Ike Barinholtz), a reformed ex-con with a heart of gold who, despite his best intentions, always seems to land himself in trouble; the hospital's resident cheerleader, BETSY PUTCH (Zoe Jarman), a young, earnest and easily excitable receptionist; the grumpy and absent-minded nurse BEVERLY (Beth Grant); and the newest addition to the nurse station, TAMRA (Xosha Roquemore), a girl who would rather dish gossip and dole out beauty tips than do anything resembling work.
What do you think? Are you happy Fox renewed The Mindy Project? Follow me on Twitter for more scoop.
Comments
comments