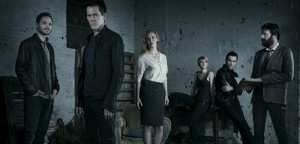 Boom! Just like that Fox has give out a lot of early renewals, to The Mindy Project, Brooklyn Nine-Nine, New Girl, Sleepy Hollow, Glee and Bones. Well, it has also renewed The Following for a third season.
The series, from Kevin Williamson ("Vampire Diaries," "Scream" franchise) and starring Golden Globe Award winner Kevin Bacon ("X-Men: First Class," "Frost/Nixon") and James Purefoy ("Rome"), follows a deadly cat-and-mouse chase between a former FBI agent (Bacon) and a devious and diabolical serial killer (Purefoy). THE FOLLOWING airs Mondays (9:00-10:00 PM ET/PT).
Following a horrific new murder spree, the FBI calls on Ryan and MIKE WESTON (Shawn Ashmore) to speak with the lone survivor, LILY GRAY (Connie Nielsen, "Boss," "Law & Order: Special Victims Unit"), in order to help them solve the case. Having worked tirelessly to rehabilitate his life, Ryan is reluctant to re-engage with the FBI. Instead, he proceeds with his own investigation behind closed doors, and finds a valuable ally in his niece, MAX HARDY (Jessica Stroup, "90210"), an NYPD cop working in the Intel Division. Throughout the season, Ryan will cross paths with several complicated individuals, including MANDY LANG (Tiffany Boone, "Beautiful Creatures") and LUKE (Sam Underwood, "Dexter"), which furthers his suspicion that JOE CARROLL's (James Purefoy) reign of terror is far from over.
What do you think? Are you happy Fox renewed The Following? Follow me on Twitter for more scoop.
Comments
comments