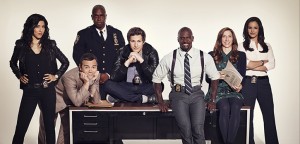 When you had the benefit of getting the post SuperBowl slot, you already knew your chances of renewal increased right? You knew you were the network´s pet project. Luckily you delivered!
So, Fox renewed Brooklyn Nine-Nine for a second season that will next fall. BROOKLYN NINE-NINE stars Golden Globe Award winner Andy Samberg as a talented, but carefree, detective and Andre Braugher as his new precinct captain with a lot to prove. The Season One finale of BROOKLYN NINE-NINE airs Tuesday, March 25 (9:30-10:00 PM ET/PT).
BROOKLYN NINE-NINE won this year's Golden Globe Awards for Best Television Series – Comedy or Musical, and Best Performance by an Actor in a Television Series – Comedy or Musical (Samberg). So that only helped its cause, making it a no brainer for Fox to renew it.
In the series, Jake is gifted enough that he's never had to work too hard or follow the rules too closely. Perhaps because he has the best arrest record among his colleagues, he's been enabled – if not indulged – throughout his entire career. That is, until Holt arrives as the precinct's new commanding officer.
Captain Holt believes in rules and regulations, two concepts that have long been overlooked by the detectives in the 99th precinct. Jake's colleagues are a capable bunch, but lack a certain level of discipline and leadership. They compete with each other, annoy each other, gossip and flirt, but at the end of the day, they have each other's backs.
As the precinct's honorary straight arrow, Amy is thrilled with the leadership change. Having grown up with seven brothers, Amy is extremely competitive…about everything. She is hell-bent on collaring more criminals than Jake, and she's keenly aware of how many arrests she needs to close the gap. Holt's next-in-command is Sergeant Terry Jeffords, a linebacker of a man who's lost his nerve after his wife had twin baby girls – Cagney and Lacey – and he worries about not seeing them grow up.
Also working cases in Brooklyn's 99th is Detective CHARLES BOYLE (Joe Lo Truglio, "Wreck-It Ralph," "Superbad"), who idolizes Jake and is the precinct's workhorse; he's not brilliant, he's not physically gifted, but he tries harder than anyone else. Charles pines for the vocally opinionated Detective ROSA DIAZ (Stephanie Beatriz, "Modern Family," "The Closer"), with whom he stands no chance at all. Rosa is simultaneously tough, sexy and scary as hell. Meddling in everyone's affairs is GINA LINETTI (Chelsea Peretti, "Parks and Recreation," "Kroll Show"), the eccentric and self-absorbed civilian office manager.
Together, they interrogate suspects, arrest perps and solve murders. But, ultimately, BROOKLYN NINE-NINE is a workplace comedy that's not really about the job. It's about the men and women behind the badge – singing karaoke, grabbing a beer and dabbling in each other's personal lives – all while protecting the fine people of Brooklyn.
What do you think? Are you happy Brooklyn Nine-Nine got renewed for a second season? Follow me on Twitter for more scoop.
Comments
comments