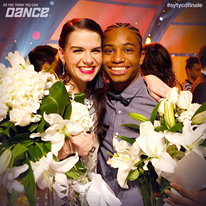 When everybody was thinking way ahead because of this season´s changes and a supposed soon to be demise for SYTYCD; the re-imagination of the format proved to be quite a good decision, and ultimately made it as Fox renews So You Think You Can Dance for season eleven. The show is the ultimate dance competition: An unscripted series that searches for America's favorite male and female dancer, in which some contestants will collapse under the pressure, some will reveal two left feet but only two will dance their way into the hearts of the nation.
The show aired its season finale yesterday and Nygel Lythgoe himself announced the news that SYTYCD got renewed for the eleventh run.
Now with two winners, but one airing, bringing back fan favorites from seasons past and making some splashes with guest judges, the show might have found a new breath of fresh air that will make it last for a few more runs, perhaps, but at least one more, already officially confirmed.
What do you think? Are you happy So You Think You Can Dance got renewed? Let me know in the comments section. Follow me on Twitter for more scoop or check the complete and updatable lists of renewed shows of 2013 and cancelled shows of 2013.
Comments
comments