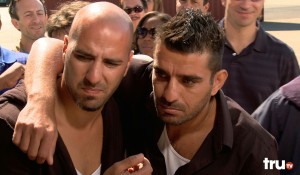 TruTV is bringing back one of the fan favorite new shows that arrived to the cabler, as they are renewing Container Wars for season two. A show where it takes more than a fat pocket to make it in the fast-paced world of shipping port auctions. You've got to have an eye for the goods and nerves of steel to face down the other bidders looking to make their fortune in this high-stakes game. With a lot of money on the line, this isn't a game; it's a war.
The show gets a second season pickup order consisting of thirteen episodes set to premiere next year. The show is cashing in on a bigger tradition of shows following the lines of shows like Storage Wars, Storage Hunters and Shipping Wars to name only a few.
Ultimately, the show is getting renewed in a big pond of shows quite alike. But it is probably a blue collar trend that will stick with us for a while.
What do you think? Are you happy Container Wars got renewed? Let me know in the comments section. Follow me on Twitter for more scoop or check the complete and updatable lists of renewed shows of 2013 and cancelled shows of 2013.
Comments
comments