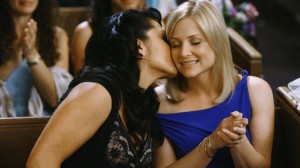 Ok, if you just saw Grey´s Anatomy you are left having the same question we do here… What will happen to Callie and Arizona? Are they breaking up over Arizona´s grant to go to Africa?
There are many many questions to answer in regards of the future of the couple, but what better way to answer them than asking Sara Ramirez herself, as folks at TVGuide.com did.
"Callie was caught in that thing where you love somebody so much you don't want to tell them the truth," Ramirez tells TVGuide.com. "Callie really doesn't want to go, but in order to be with Arizona, they decide to go together."
Thing is, Jessica Capshaw "Arizona" is leaving Grey´s Anatomy on a temporal basis, due to her giving birth to her second child. And this plot about Arizona going to Africa simplifies everything for the actress.
The temporal replacement for Dr Arizona will be filled by guest star Peter MacNicol. Ally McBeal, Numb3rs alum will appear in multiple episodes as a pediatric attending physician working closely with Alex.
Although the couple between Arizona and Callie is not breaking up on Grey´s Anatomy, rough road ahead is in the horizon for them.
What do you think? Are Callie and Arizona breaking up on Grey´s Anatomy? Should they? Let me know your thoughts in the comments section.
Also, remember to follow me on Twitter for more Grey´s Anatomy spoilers and scoop.
Comments
comments