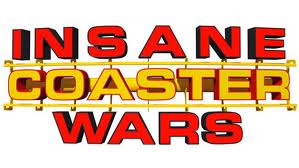 Paired to the premiere of Xtreme Waterparks, Travel Channel is also launching the premiere of Insane Coaster Wars with One-Hour Season Opener to Feature Back-to-Back Episodes on Sunday, July 8 at 9:00p.m. and 9:30 p.m., ET/PT
Roller coasters promise a terrifying trip full of death-defying drops, spine-torqueing twists and stomach-churning inversions – but which ride is better? This series invites thrill seekers everywhere to settle the battle once and for all by voting for their favorite coasters. Each episode features four coasters in a total of six different categories. Coaster experts will argue the pros, cons, advantages and weaknesses of each ride, while viewers experience the ride firsthand through specially mounted cameras. The fan favorites will be announced on air at the end of each episode, and in the one-hour finale, we count down the top ten coasters with the most votes! The first half-hour of the season opener (airing at 9:00 p.m., ET/PT) features "G-force Giants" – coasters that terrify riders with each gravity defying loop, roll, dive and turn. Which rollercoaster wins the battle of the G's – California's Medusa (Six Flags Discovery Kingdom), the Carolinas' Afterburn (Carowinds Theme Park), Virginia's Apollo's Chariot (Busch Gardens), or Tampa Bay's SheiKra (Busch Gardens)? The second episode of the season premiere (airing at 9:30 p.m., ET/PT) features "Hang 'em High" coasters that electrify by dangling riders below the tracks. Which coaster will soar above the competition – Orlando's Manta (Sea World), Idaho's Aftershock (Silverwood Theme Park), Virginia's Alpengeist (Busch Gardens), or Tampa Bay's Montu (Busch Gardens)?
Will you watch Insane Coaster Wars on Travel Channel? Let me know in the comments section. Also, remember to follow me on Twitter for more Insane Coaster Wars scoop.
Comments
comments