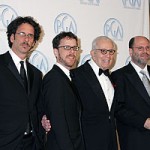 Next Sunday we have the Golden Globe Awards, and on January the 25th, The Screen Actors Guild Awards are presented.
One day earlier (night to be precise), the 2009 Producer Guild Awards are handed out.
And the Series And TV Nominees are:
Long-Form Television
Bernard and Doris
"John Adams"
A Raisin in the Sun
Recount
24: Redemption
Episodic Television – Comedy
"Curb Your Enthusiasm"
"Entourage"
"The Office"
"30 Rock"
"Weeds"
Episodic Television – Drama
"Boston Legal"
"Damages"
"Dexter"
"Lost"
"Mad Men"
Non-Fiction Television
"Deadliest Catch: Crab Fishing in Alaska"
"Frontline"
"Kathy Griffin: My Life on the D-List"
"60 Minutes"
"This American Life"
Live Entertainment/Competition Television
"The Amazing Race"
"The Colbert Report"
"Project Runway"
"Real Time with Bill Maher"
"Top Chef"
Who do you think is gonna win?
Comments
comments