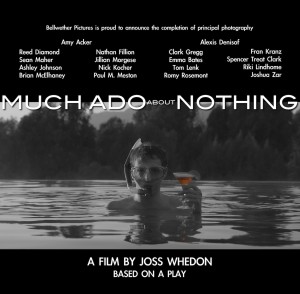 Today, something misterious came to us. A release of the new film by Joss Whedon. Say Whaaaa?
Yes, Joss Whedon, the genius behind Buffy, Dollhouse and Dr Horrible Sing Along Blog among others, has adapted and directed Shakespeare´s Much Ado About Nothing, and they filmed secretly.
Filmed in just 12 days entirely on location in exotic Santa Monica, the film features a stellar cast of beloved (or soon to be beloved) actors – some of them veterans of Shakespearean theater, some completely new to the form.  But all dedicated to the idea that this story bears retelling, that this dialogue is as fresh and intoxicating as any being written, and that the joy of working on a passion project surrounded by dear friends, admired colleagues and an atmosphere of unabashed rapture far outweighs their hilariously miniature paychecks.
The film is shot in Black and White and has Amy Acker playing Beatrice (the one Emma Thompson played), and Alexis Denisof, Alyson Hannigan´s husband, portraying Benedict (the one Kenneth Branagh played).
But that´s not it, Nathan Fillion is playing Dogberry!
Sean Maher plays Don John, Clark Gregg does Leonato, Reed Diamond Don Pedro, Fran Kranz does Claudio and Spencer Treat Clark plays Borachio.
The film was produced by Whedon, line-produced by Nathan Kelly and M. Elizabeth Hughes, and co-produced by Kai Cole and Danny Kaminsky. The film should be completed by early spring and headed for the festival circuit, because it is fancy.
What do you think? Will you watch Much Ado about nothing Joss Whedon movie version? Are you as psyched as me to see Nathan Fillion as Dogberry?
Let me know in the comments section.
Also, remember to follow me on Twitter for more Much Ado About Nothing scoop.
Comments
comments