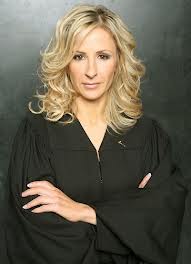 Entertainment Studios, Inc., (www.es.tv) the largest independent producer and distributor of first-run syndicated television programming for broadcast television stations, and owner of eight 24-hour HD television networks (CARS.TV, COMEDY.TV, ES.TV, MYDESTINATION.TV, PETS.TV, RECIPE.TV, LEGACY.TV, and JUSTICE CENTRAL.TV) proudly announces the renewal of JUSTICE FOR ALL WITH JUDGE CRISTINA PEREZ. Based on its continued success in multiple markets, JUSTICE FOR ALL WITH JUDGE CRISTINA PEREZ has received a firm "go" for seasons 2 and 3 and is now cleared in 85 percent of U.S. television markets.
A multi-faceted talent, Cristina Perez is a successful lawyer, three-time Emmy Award winning television personality, radio host, author, columnist, and devoted mother and wife. Pérez is the first Hispanic judge to cross over from Spanish-language to English-language television. Her syndicated show for Twentieth Television — "Cristina's Court" — won three consecutive Daytime Emmy Awards for "Outstanding Legal/Court Show" in 2008, 2009, and 2010. These three Emmy wins are the first-ever for a Twentieth Television daytime show.
A daily courtroom series, JUSTICE FOR ALL WITH JUDGE CRISTINA PEREZ now boasts broadcast syndication clearances with group-owned television stations including: CBS Television Station Group, Weigel Broadcasting, Sinclair Broadcasting, Media General, Titan, Bonten, Schurz, Journal, Vision Alaska, Belo, Newsweb, Roberts, Barrington, Corridor, TV Groupo, Gray Television, Roundtable Broadcasting, Lin, Nexstar, Meredith, Mission, New Age, Fox O&O, Young, Gormally, West Virginia Media Group, Lockwood, Northwest, Cordillera, Ramar, Cox, and Sunbeam. JUSTICE FOR ALL WITH JUDGE CRISTINA PEREZ will also continue to air on the Entertainment Studios HD cable network JUSTICE CENTRAL.TV
JUSTICE FOR ALL WITH JUDGE CRISTINA PEREZ is a strong component of our portfolio of four court shows, which also includes AMERICA'S COURT WITH JUDGE ROSS, WE THE PEOPLE WITH GLORIA ALLRED, and our newest court show SUPREME JUSTICE WITH JUDGE KAREN, which premieres in Fall 2013. We are delighted to continue Entertainment Studios' unwavering commitment to be the number one provider of quality television content."
"I am having a great experience on JUSTICE FOR ALL WITH JUDGE CRISTINA PEREZ and I look forward to our next two seasons," said Cristina Perez. "I am very passionate about the television court show genre, and I am extremely excited about continuing my relationship with the creative and innovative producers at Entertainment Studios."
What do you think?  Are you happy Justice For All With Cristina Perez got renewed? Let me know in the comments section. Follow me on Twitter for more scoop or check the complete and updatable lists of renewed shows of 2013 and cancelled shows of 2013.
Comments
comments