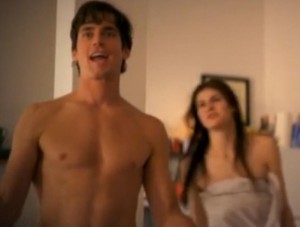 Before anything: Make sure to participate in my White Collar Contest and Giveaway for a chance to win a White Collar Gift Pack.
Good TV is back! Well… set your calendars, since White Collar comes back tonight 10/9 C on USA. (It´s a new time slot)
I already told you all you needed to know about White Collar midseason premiere Burke´s Seven and i gave you tons of spoilers from tonight´s White Collar episode Forging Bonds.
And for everybody here dying to see something else that happens, we get everything you wanted to know.
First for all you droolers. Matt Bomer dances naked in White Collar´s episode.
And, as Jeff Eastin, show´s creator tweeted: Bomer's naked dance from tonight's #WhiteCollar, best teaser ever! You're welcome.
Watch Matt Bomer naked dance on White Collar Forging Bonds video
But aside from that, we were able to have a little interview with Matt Bomer and Tim DeKay, White Collar stars.
Matt Bomer and Tim DeKay on their onscreen chemistry
T. DeKay    We went to therapy once a week.
M. Bomer    Couples therapy.
T. DeKay    Yes.  It really—
M. Bomer    It's worth it.
T. DeKay    It is.
M. Bomer    We meet our deductible pretty quick and from there on out it's just a co-pay and it's worth it.
T. DeKay    Because we're both in the union so that helps.
M. Bomer    That helps.  That's good.  I think Tim is inherently a generous person and very generous of spirit and he brings a real sense of play to the work.  I try to do the same.  I know he lifts me up on my off days and—
T. DeKay    Oh, and you lift me up on my off days.  No, listen, we have a blast.  We have fun together, but in the end, we respect each other.
M. Bomer    Yes.
T. DeKay    I mean as far as the work is concerned.  It's just like any other relationship, if you don't have that then there is no ground to it.
M. Bomer    As much as the trust dynamic is liquid between Peter and Neal, I think Tim and I pretty much … each other.
T. DeKay    Yes.  Yes, that's good.  Therein lies a big difference.
Matt Bomer and Tim DeKay interview on which USA Show could be a good crossover with White Collar
T. DeKay    I think my immediate response goes to Royal Pains because it'd just be nice to go out to the Hamptons for a few days.  Then again, it would be nice to go down to Miami and shoot some things in Miami.
M. Bomer    Yes, I think Burn Notice would be a really natural fit just because of the worlds that our characters live in and inhabit, but to be honest with you I love all the shows they have.  It would be really fun and an honor to get to work with on any of them—to cross over on any of them.
T. DeKay    It'd be fun to do some World Wide Wrestling as well.
M. Bomer    Well, yes, I mean that goes without saying.
T. DeKay    Yes.
M. Bomer    Tim, you're about to get us into a tag team wrestling match.
T. DeKay    I can you just see me reaching over the ring, "Tag me, tag me, come on."
M. Bomer    Peter and Neal's trust dynamic, WWE Wrestling.
Matt Bomer and Tim DeKay interview on Hilarie Burton´s character and Sarah and Neal´s possible romance
M. Bomer    I think it's fantastic.  She brings so much to the role.  She's the real deal.
T. DeKay    Yes.
M. Bomer    She's gorgeous, and she's in it, and she has brought this amazingly intelligent, challenging, super Type-A character to life that Neal finds really intriguing and ultimately on some level I think wants to tame.
T. DeKay    Oh, I like that.  Oh, that is good.
M. Bomer    It's a really fun dynamic to get to play with her and she's such a great actress.  It's really kind of moment to moment with her, which is always fun and keeps me on my toes.  Yes, and she's gorgeous to boot; a really, really great girl.  We have a lot of fun stuff that we get to do with each other and their relationship will grow and there will be a lot of tension there, maybe a little sexual frustration and then maybe some sexual frustration release; I don't know.  I'm just saying maybe.
Tim DeKay interview on being a conman as Peter Burke and if we are going to see more of that in the future
Thank you, I felt great about that.  That goes back to that question Matt asked me.  Peter gets giddy and it means that he gets to go to the other side for a little while, aw, that's a blast.  Certainly as an actor, whenever you can go not just one step into the imagination, but in essence two steps into the imagination, when your character plays a character, that's even more fun as well.  In the end that's what we love to do as actors is just dive into the world of pretend.
It was a hoot.  You will see more of that.  I think with everybody—and that also goes back to the relationships that are strengthening with the other characters—we all are jumping into a lot of different arenas.  I think it makes for some good story telling.
What did you think of White Collar´s Matt Bomer naked dance? What about Matt Bomer and Tim DeKay´s interview? We have more coming. Let me know in the comments section. Also, remember to follow me on Twitter for more scoop and spoilers on White Collar.
Comments
comments