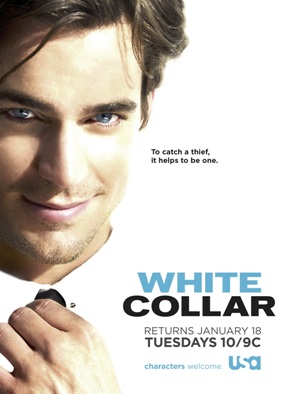 Folks at my favourite can´t miss Network (USA Network) are launching a Giveaway Contest for all White Collar Fans from United States and Canada.
Tuesday, January 18th, USA Network is bringing you the premiere of all new episode of White Collar at 10/9c!  Find out what happens to Neal, Peter, Mozzie and the rest of the crew after a huge cliff-hanging finale last summer.  WHITE COLLAR stars Matt Bomer, TimDeKay, Tiffany Thieseen, Willie Garson, Marsha Thomason and Shariff Atkins.  Visit the official White Collar website at http://www.usanetwork.com/series/whitecollar/, for games, photos, videos and weekly prizes.  Become a fan on Facebook for the latest news, exclusive features and more at http://www.facebook.com/whitecollar.
I already posted something about the Midseason Premiere of White Collar Burke´s Seven, and Forging Bonds.
ENTER TO WIN a WHITE COLLAR Gift Bag! Gift bag includes:
White Collar Notebook

Black Cashmere Scarf

Season 1 DVD

Money Clip
This prize is courtesy of USA Network and has a Prize pack value of $135, so it´s quite interesting!
And not only that… There will be two winners! Each winner will get one prize pack.
How to participate in this White Collar Contest Giveaway by Series And TV?
You should leave a comment (Make sure you put a valid e-mail address) stating what is your favourite con from White Collar and why.
This Series and TV White Collar contest giveaway will be up and running up until January 31st, 2011. So make sure you are in it!
You can also enter Royal Pains contest and giveaway for the chance to win another Gift Pack.
You can enter Fairly Legal Contest Giveaway and win a gift pack of Fairly Legal, too.
Also, you can warm up for the upcoming episodes of White Collar by watching this teaser trailer of White Collar coming back January 18th 10/9 C on USA Network. As announced in our TV Comeback Calendar 2011, Winter Edition.
Also, make sure to follow me on Twitter for more great TV Contests and Giveaways!
Comments
comments