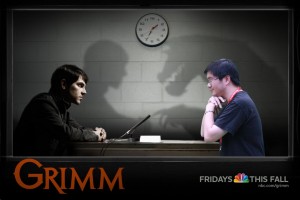 There have been several announcements from the NBC front in terms of callbacks, as NBC renewed Revolution, renewed Chicago Fire, Law & Order SVU, Parenthood and NBC renewed Grimm for season three. This announcement was evidently expected, as Grimm not only managed to perform very well on Fridays, but also somehow made the leap out of the death slot of Fridays and moved to Tuesdays making ever better numbers once moved.
"Grimm," inspired by the classic Grimm Brothers' fairy tales, is a Universal Television and Hazy Mills production. The series was created by Stephen Carpenter, David Greenwalt, Jim Kouf. Sean Hayes, Todd Milliner and Norberto Barba also serve as executive producers along with Greenwalt and Kouf.
"Grimm" is Friday's #1 series in adults 18-49 and is up versus one year ago by 14 percent in 18-49 rating (with a 2.4 vs. the year-ago 2.1, "most current") and is up 12 percent in total viewers (6.9 million vs. 5.2 million).
Grimm´s season three renewal order is for 22 more episodes slated to air 2013 – 2014.
What do you think about this? Are you happy Grimm got renewed? Follow me on Twitter for more scoop on shows getting renewed like Grimm, or check the complete and updatable lists of renewed shows of 2013 and cancelled shows of 2013.
Comments
comments