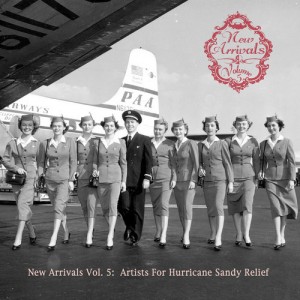 Music sooths beasts, music cures souls, and adding to that power about music, it can also help charities. Such is the case for New Arrivals Vol. 5: Artists For Hurricane Sandy Relief (Due out Oct. 29th digitally, and January 14th physically).
The album, includes 20 songs from indie artists joining forces to bring some relief to three charities that are working in the aftermath of Hurricane Sandy.As a NYC-based company, MPress Records is determined to help raise funds and spread the word about the outstanding work these charities are doing for Sandy Relief. The charities are: The Red Hook Initiative (Brooklyn), Project Hospitality Staten Island Hurricane Relief Fund (Staten Island) and Graybeards (The Rockaways).
So now, let´s have a deeper look into New Arrivals Vol 5: Artists for Hurricane Sandy Relief.
Tracklist
The Winter of Yes by Ari Hest is how the record opened: a smooth soft song that can be placed among easy listening genre. A very polished ballad that you can end singing along after only a couple of runs.
Then Turn it Around by Lucius goes a higher beat to what can easily be the hit song from the album. I went back to this song quite often.
Third track is Seek And Hide by Lucy Wainwright Roche ft Colin Meloy briging the tune to a softer place, in a duet that can be a radio song for the way back home in the car after a hard office day.
Then it moves to Slow Motion by Phox. This is a song that will take a few runs for one to get used to it. It´s not an instant easy listening; but it has some serious Tracy Chapman elements that makes the case for going back to it and get used to the song. It is well worth it.
The album then goes to Smile by Stephen Langstaff, a Buble, Mraz kind of song, that can be an instant hit. it aslo has some elements of post Jeff Lynne ELO, specifically Parthenon Huxley´s work.
An upbeat song then follows in the form of A Long Time to be Happy by A Fragile Tomorrow. It has a nineties vibe to it that can connect with many of us thirtysomething kind of people.
Are You Listening by Alex Wong brings back the album to a more intimate space, with a piano song to listen on a rainy afternoon while looking out the window.
Iowa by Namoli Brennet goes back higher to a guitar tune that resembles the Counting Crows musically, but with a completely different voice. Maybe also resembling a bit of Hootie.
Same Old Way By Chad Elliott has all the chops to be a hit on country stations; and it´s one that will probably sound quite often in my car.
Then, Rise Up by Rebecca Pronsky is quite an interesting song that was probably among my favorites, although probably is a little thinner in the range of fans that will get. I can clearly see it in a Quentin Tarantino soundtrack.
The Remedy by Karima Francis. Even though the song per se was not among my top picks. It´s solid, and had me wondering what a duet between her and Eddie Veder would be. I´d buy that!
Then the album goes to Last Week by Polly Paulusma in a song that can be the poster child of what an Indie chick song is. I can see this in every indie station. Maybe she could be the Lisa Loeb of 2014.
So Far So Good by The Goods follows with a song that can be in the Twin Peaks Soundtrack if there´s ever a reboot. In my mind I´ve already done the video clip for this song!
The next song is All These Little Loves by Eric Hunker. Mark this name. He´s going to get big.
Next in line is Good for a Bad Guy by Alexis Babini, is quite a fun song, upbeat and with a lot of potential, but I have to say that he does not look or sound anything like a bad guy. But this is a very good folk-y song.
16th on the tracklist comes That Was The Whisky by Antigone Rising; great song. I will say it again. Great song. And it sounds like they are the estranged daughters of Reba and ZZTop.
Following comes September by Parkington Sisters with a song that has the feel of being sung around a campfire.
Then, Phoebe (With Her Whole Heart) by Emma Dean. Maybe me, being a Friends generation guy, for me when it starts with Phoebe, I am expecting something different. After that first sort of getting used to phase, the song is a very intimist song that works as a song, but I would´ve preferred with more backing vocals to give it a different depth.
Record continues with Everything by Rachael Sage, in a song along the lines of the previous one but with a violin that gives it a more powerful outcome.
To close the record, there´s the bonus track called Life Goes One by Paula Cole an already accomplished artist who has a Grammy and a Billboard Top Ten with Where Have all the Cowboys Gone. A great way to end a very good album. 20 very good songs that will majke for a good cause.
The record hits the online shelves October 29th, and then comes out physically January 14th. I had the chance to listen to it upfront so I could give you this review, and also, while at it, sending you on your way to buy the album. It´s for a good cause!
You can buy New Arrivals Vol 5: Artists For Hurricane Sandy Relief in this link.
Let me know your thoughts about it.
Comments
comments