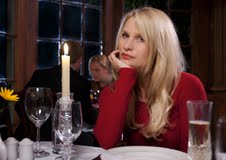 Desperate Housewives star Nicolette Sheridan is travelling to the rolling plains and sweeping landscapes of Ireland on a "Honeymoon for One," a Hallmark Channel Original World Premiere, Saturday, August 13 (9 p.m. ET/PT, 8C).  With "Honeymoon for One" co-stars Greg Wise ("Return to Cranford") and Patrick Baladi ("Mistresses"), Sheridan plays an advertising executive who is forced to end her engagement to a philandering fiancé and then steps way outside her comfort zone when she decides to go on the idyllic honeymoon — alone!
Eve Parker (Sheridan), a driven and successful advertising executive from Los Angeles, is devastated when she finds out her fiancé, Greg (Baladi), has been cheating on her.  Leaving Greg behind, Eve decides to go on their honeymoon alone—to a breathtaking castle in the Irish countryside that Greg's company has just bought and plans to turn into a golf course.  But Eve soon discovers the honeymoon suite isn't so sweet when everything starts to go wrong, from her lost luggage to her repeated run-ins with the estate's manager Sean (Wise), a handsome outdoorsman with a knack for getting on her nerves.  It is culture clash between the big city girl and her nature-loving Irishman, but soon Eve falls for Sean.  Eve has just traded in her high heels for hiking boots when Greg shows up threatening to parcel Sean's ancestral homeland into 18 holes and a clubhouse, and to woo Eve back to the altar.  With her love life in a conundrum, Eve leans on a couple of Irish Proverbs in making her decision: One never misses the well until the water runs dry; and when one buys a life that's not needed, one must sell everything to attain it.  What's a love struck girl to do?
"Honeymoon For One" is a Parallel Film Production for MNG Films in associations with Larry Levinson Productions.  Larry Levinson, Mary Callery and Alan Moloney are the executive producers.  Randy Pope is co-executive producer, and Peter Norris is the producer.  Kevin Connor directed from a script by Rick Suvalle.
What do you think? Will you watch Honeymoon for one on Hallmark Channel? Let me know in the comments section.
Also, remember to follow me on Twitter for more Hallmark Channel scoop.
Comments
comments