Pretty Little Liars premieres tomorrow night on ABC Family
And we are giving it a quick preview of Pretty Little Liars
What is Pretty Little Liars About? – Plot
Rosewood is a perfect little town. So quiet and pristine, you'd never guess it holds so many secrets. Some of the ugliest ones belong to the prettiest girls in town — Aria, Spencer, Hanna and Emily, four estranged friends whose darkest secrets are about to unravel.
One year ago, Alison, the Queen Bee of their group, disappeared and the girls swore they'd never tell what really happened that night. They thought their secrets would bond them together, but just the opposite is true. Then again, who's to say what the truth is in Rosewood. It seems everyone in town is lying about something.
Now, as the mystery surrounding Alison's disappearance resurfaces, the girls begin getting messages from "A," saying – and threatening – things only Alison would know. But it couldn't be Alison. Could it? Whoever it is, they seem to know all the girls' secrets, and seem to be watching their every move. The girls are friends again, but will they be there for each other if their dark secrets come to light?
Let´s review the Cast of Pretty Little Liars
Lucy Hale stars as Aria Montgomery on Pretty Little Liars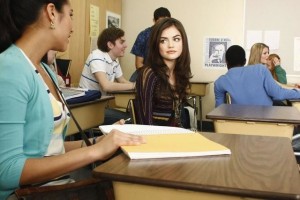 The artsy chameleon who is interested in English — and her English teacher, Ezra Fitz. After living overseas for a year with her family, being in Rosewood brings back a lot of memories for Aria – some good, some not good at all.
Hale recently starred in the critically acclaimed series "Privileged" and in "The Sisterhood of the Traveling Pants 2," opposite Blake Lively, Alexis Bledel, America Ferrera and Amber Tamblyn. Filming of the latter took her to locations in the Greek island of Santorini, New York and Connecticut.
Ashley Benson stars as Hanna Marin on Pretty Little Liars
Who became the school's new "it" girl after Alison disappeared. But being at the top of the social ladder is not all it is cracked up to be, especially when someone is out there reminding Hanna of how things used to be.
Benson made her feature film debut in "13 Going on 30," starring Jennifer Garner. She was also the lead in "Bring It On: In It to Win It," as the fresh-faced captain of the West High cheerleading team. In 2009, she was seen in the independent film "Bart Got a Room," opposite William H. Macy.
Troian Bellisario portrays Spencer Hastings on Pretty Little Liars
A straight-A student and overachiever from a family that only expects the best. With the pressure bearing down on her from her family, Spencer feels like she must live up to the high standards set by her perfect sister Melissa.
Bellisario previously had a recurring role on the television series "NCIS" and guest starring parts on "First Monday," "JAG" and "Quantum Leap," among others.
Shay Mitchell stars as Emily Fields on Pretty Little Liars
An athletic girl who is struggling with her sexuality and the loss of her best friend.
Her hard work paid off and, after signing with her first theatrical agency, she appeared in the hit series "DeGrassi: The Next Generation" and booked several national commercials. She also landed a recurring role in the Disney series "Aaron Stone," is featured in the music video for international recording artist Sean Paul's hit song "Hold My Hand" and will appear in the upcoming ABC series "Rookie Blue."
Sasha Pieterse portrays Alison DiLaurentis on Pretty Little Liars
The former queen bee whose mysterious disappearance rocked the small suburban town where she lived.
Pieterse's first major film role was as the Ice Princess in Robert Rodriguez's "The Adventures of Shark Boy and Lava Girl 3D," with Taylor Lautner and George Lopez. She also starred in "Good Luck Chuck" and in the telefilm "Claire," opposite Valerie Bertinelli. Pieterse recently appeared in the hit series "Heroes" in the recurring role of Amanda Strazzulla, a young gypsy girl with fire powers. She also guest starred in "House M.D.," as a terminal cancer patient who was terrified of dying without ever being kissed, and in "Without a Trace," in a terrifying turn as a kidnapping victim.
Ian Harding portrays Ezra Fitz on Pretty Little Liars
The English teacher who has more than a scholarly interest in Aria, one of his students.
Harding's feature credits include Greg Mottola's "Adventureland" and the upcoming Ed Zwick film "Love and Other Drugs." He also recently appeared in an episode of "NCIS: Los Angeles."
Holly Marie Combs portrays Ella Montgomery on Pretty Little Liars
Aria's mother who is unsuspecting that her husband, Byron, had an affair with one of his ex-students at the college.
Combs is known worldwide for her role as Piper Halliwell on the long-running and popular series "Charmed," where she was also a producer for four seasons. After taking time off to raise her young family, Combs starred in the television production "Mistresses" before joining the cast of "Pretty Little Liars."
Chad Lowe stars as Aria's father, Byron Montgomery on Pretty Little Liars
Lowe became a household name with his first series regular role on the ABC drama "Life Goes On." For his work on the series, portraying AIDS victim Jesse McKenna, Lowe earned an Emmy® Award for Best Supporting Actor on a Drama Series.
Lowe began his career as an actor in the 1980s with a series of telefilms, including "Flight 90: Disaster on the Potomac," "Silence of the Heart," "April Morning" and "An Inconvenient Woman." He also starred in the telefilm "Take Me Home: The John Denver Story" as John Denver, and had recurring roles on such series as "Melrose Place," "Popular," "Now and Again" and "ER," and guest-starring roles on such shows as "Touched by an Angel," "Superman," "CSI: Miami" and "Medium," among others. Lowe recently had a recurring role on the popular series "24," playing Reed Pollock, deputy secretary to Thomas Lennox, played by Peter MacNicol.
Laura Leighton portrays Ashley Marin on Pretty Little Liars
A well-polished business executive who spends more time on her cell phone than she does with her daughter, Hanna.
Best known to audiences for her performance as Sydney on the long-running iconic 1990s television series "Melrose Place," Leighton returned to the role in the reimagining of the program which debuted in fall 2009.
After her long stint on the original "Melrose Place," she continued to turn in memorable performances on such shows as "CSI: Miami," "Boston Legal," "Shark and Law & Order: Special Victims Unit," all the while raising a family. She also appeared in Jerry Bruckheimer Television's "Skin," as well as the series "Eyes." Recently, Leighton was seen in the feature thriller "The Burrowers" and telefilms "Love Notes," "Daniel's Daughter" and "Mending Fences."
Bianca Lawson stars as Maya St. Germain on Pretty Little Liars
The free-spirited new girl in town who moves into Alison's old house and befriends Emily.
Lawson's big break came when she was cast in the hit television series "Saved by the Bell: The New Class." Her career continued with a string of successful television appearances, including roles on hit shows "Dawson's Creek," "Buffy the Vampire Slayer," "The Steve Harvey Show" and "Sister, Sister." She also was awarded the series regular role of Bianca Goode on the hit show "Goode Behavior," opposite Sherman Hemsley.
Lawson soon moved into the feature world, with roles in the films "Primary Colors" and "The Temptations" (she appeared as Diana Ross), but it was the box office smash "Save the Last Dance" that brought Lawson acclaim for her starring role opposite Julie Stiles, Sean Patrick Thompson and Kerry Washington. Lawson went on to star in the romantic comedy "Breakin' All the Rules" with Jamie Foxx.
Most recently, Lawson could be seen in successful recurring arcs on the popular series "The Vampire Diaries" and ABC Family's hit series "The Secret Life of the American Teenager."
Janel Parrish portrays Mona Vanderwall on Pretty Little Liars
Janel Parrish set her sights on stardom at an early age. She's been singing and playing the piano since she was six. She's already been on Broadway and has appeared in a bunch of TV shows and movies. She played Jade in "Bratz," and had a recurring role on "Heroes." She's guest-starred on "The O.C.," "Zoey 101," and "The Bernie Mac Show." As far as movies go, Janel's in "April Showers," "Triple Dog," and "Fired Up!" Upcoming projects include "Knots," and "One Kine Day.
Wallpapers and Photos from Pretty Little Liars by ABC Family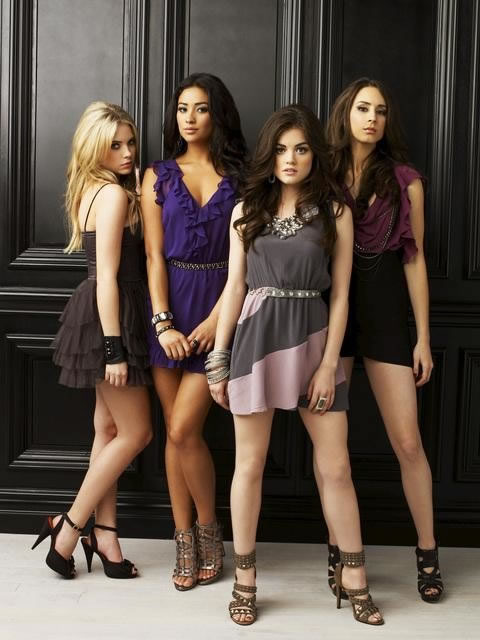 Are you going to watch Pretty Little Liars the new show of ABC Family premiering tomorrow?
Comments
comments