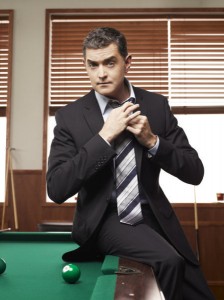 Season 6 of Psych came back some days ago, and we already reviewed Indiana Shawn and the Temple of the Kinda Crappy, Rusty Old Dagger and Heeeeere's Lassie
But there are still some more episodes to go on this season of Psych:
As usual, you can also, while waiting for more episodes to come, review all the articles I´ve done like Shawn and Gus Nicknames, Psych Pop References from season 1, Psych Pop References from season 2, Psych Pop Reference from season 3, Psych Pop References from season 4.
Psych S06E12 – "Shawn and the Real Girl"
Airdate: 03/14/12
Shawn and Gus go undercover to investigate the attempted murder of a contestant on a reality show called, "Missed Connections," a Bachelorette-type dating show where eligible men compete for the affections of a woman each contestant has crossed paths with in the past but has never actually met.
Guest Stars: Mike "The Miz," Greg Grunberg, Wayne Brady, Lindsay Sloane
Psych S06E13 – "Let's Doo-Wop It Again"
Airdate: 03/21/12
When the founder of "Right Now", Santa Barbara's oldest at-risk youth program, is shot and almost killed, Shawn, Gus and a few members of Gus's a capella group from college investigate to find the culprit.
Guest Stars: Mekhi Pfeifer, Jaleel White, Cheech Marin, Kristy Swanson
Psych S06E14 – "Autopsy Turvy"
Airdate: 03/28/12
After a mortician brings to light a mistake Woody the coroner made while performing an autopsy, Shawn and Gus try to figure out the body's real cause of death as well as save Woody from losing his job.
Guest Stars: Glenne Headly, French Stewart, Ivana Milicevic, Kate Micucci, Jocelyne Loewen, Ashley Hand, Jill Morrison, CJ Jackman-Zigante
Psych S06E15 – "True Grits"
Airdate: 04/04/12
An impassioned chef from the South, who seeks restitution after his robbery conviction is overturned by The Innocence Project, hires Shawn and Gus to help him find the actual culprit for whom he spent time in jail for.
Guest Star: Anthony Anderson
Psych S06E16 – "Santabarbaratown"
Airdate: 04/11/12
After over 20 years of searching, the body of Veronica Towne has been found, and Shawn, Gus and Henry reopen the case and revisit all the old suspects, including the son of a millionaire who was dating her at the time she went missing.
Guest Stars: Rob Estes, Lolita Davidovich, Amanda Schull, Max Gail
What can you infer from these titles and descriptions? Will you watch Psych season six episodes still to air? Let me know in the comments section.
Also, remember to follow me on Twitter for more Psych scoop.
Comments
comments