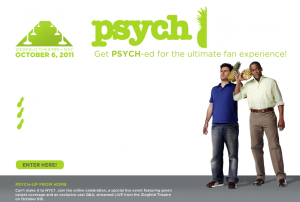 The countdown is getting smaller and smaller, and Psych is coming back to premiere season six with tons of surprises: Pop Culture Icon William Shatner Joins Impressive Lineup of Guest Stars for Season Six including Danny Glover, Kristy Swanson, Corey Feldman, Joey McIntyre, Malcolm McDowell, Jason Priestley, John Rhys Davies, Wade Boggs, Molly Ringwald & WWE Superstar The Miz.
Be prepared for a run on pineapples as America's favorite fake psychic team returns with all new episodes of PSYCH for its sixth season on Wednesday, October 12 at 10/9c.  James Roday ("Shawn Spencer"), Dulé Hill ("Burton 'Gus' Guster"), Corbin Bernsen ("Henry Spencer"), Timothy Omundson ("Detective Carlton Lassiter"), Maggie Lawson ("Detective Juliet") and Kirsten Nelson ("Chief Vick") all star in this cult and fan favorite series.  PSYCH is currently USA's longest running series on-air.
From vampires to super heroes, hippie communes to mental institutions, season six of PSYCH will thrill and delight fans of Santa Barbara's favorite psychic crime-solving team. A bevy of top names in entertainment will make guest appearances this season, including pop culture icon William Shatner as Juliet's father; Danny Glover and Wade Boggs in a baseball escapade; Kristy Swanson and Corey Feldman in a vampire episode co-written and directed by James Roday; John Rhys Davies in an Indiana Jones inspired episode written and directed by Steve Franks; plus Joey McIntyre of New Kids on the Block fame, Malcolm McDowell, Jason Priestley, Molly Ringwald and WWE Superstar The Miz.  This season, when it comes to Juliet, Shawn is making some grown up moves in their relationship and best friend and partner Gus deals with being a third wheel.  Also, whether or not Shawn is a "real" psychic is questioned.
What do you think? Will you watch Psych season six premiere? Let me know.
Also, remember to follow me on Twitter to my review of the season premiere of Psych, a few days prior to airing.
Comments
comments