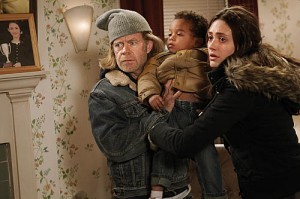 Preparing for the fifth episode of Shameless airing tomorrow (Remember you can read our spoiler preview of Shameless), Showitme will run a marathon of the first four installments of its newest hit series Shameless on Saturday, February 5th, beginning at 5:00 PM ET/PT.  Starring William H. Macy, Emmy Rossum and Joan Cusack, Shameless is Showtime's best performing freshman drama in seven years (outpacing Dead Like Me, The Tudors, The L Word and Dexter's freshman seasons).  Amidst stiff competition, Shameless has performed particularly well in the coveted 18-34 age demographic.  The marathon will give viewers an opportunity to enjoy the season from the beginning and experience the wild antics of the Gallagher clan.
New episodes of Shameless air Sundays at 10:00 PM ET/PT following Episodes and Californication.
From John Wells (ER, The West Wing, Southland) and Paul Abbott (State of Play, Touching Evil) , Shameless is based on the long-running hit UK series and stars Emmy® Award winner and Oscar® nominee William H. Macy (Fargo, Pleasantville, The Cooler) and Emmy Rossum (The Phantom of the Opera, Mystic River). Macy plays a far-from-stellar working class patriarch of an unconventional Chicago brood of six motley kids (headed by eldest sibling Rossum) who keep the home afloat while he's out drinking and carousing. Shameless is from Bonanza Productions Inc. in association with John Wells Productions and Warner Bros. Television. Wells and Abbott are executive producers; Andrew Stearn (The West Wing, Southland) also serves as executive producer.
Will you watch Shameless Marathon on Showtime? Let me know your thoughts in the comments section.
Also, remember to follow me on Twitter for more Shameless scoop.
Comments
comments