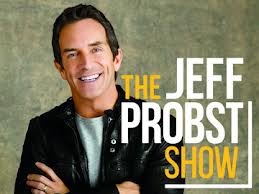 It has been a heavy week in the news of renewed shows of 2013 and cancelled shows of 2013 for talk shows, with several of them coming back, while others got the kick in the bum, just like this one, as The Jeff Probst Show got cancelled. The show will not come back in 2013 and 2014, but original episodes will continue to air through the end of the season. In the official statement about Jeff Probst Show cancellation a representative said: "We believe Jeff is an incredible talent, and that he and his dedicated producing team delivered quality episodes throughout the season. Unfortunately, the audience isn't there to support a second year. We are grateful to the entire staff, our affiliate partners and advertisers for their ongoing support of The Jeff Probst Show."
The Jeff Probst Show never found an audience big enough as to grant it a new season, but the Survivor host will have no problem reaching end of months as his reality competition has started a new season already.
What do you think? Are you sad The Jeff Probst Show got cancelled? Let me know in the comments section. Also, follow me on Twitter for more scoop on shows getting cancelled like The Jeff Probst Show.
Comments
comments