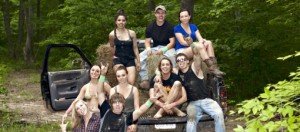 Some shows I´m happy to see join the list of  renewed shows of 2013 and sometimes I´m happy they join the one with the cancelled shows of 2013. This one is neither: MTV renewed Buckwild for season two, so, just as Jersey Shore ends,we get another brainfreeze show to fill the void. MTV announced a second season renewal of "Buckwild" The half-hour, 12-episode series follows a group of nine young, carefree and adventurous friends living in West Virginia, who find unique ways to create their own fun. Since the series premiere last month, "Buckwild" ranks as #1 rated original cable series of Thursday nights among P12-34, while pulling in an average of 3 million total viewers per episode (Live +3). Additionally, MTV has two of the top three rated cable series of the first quarter of 2013 among P12-34, with "Catfish: The TV Show" as #2 and "Buckwild" as #3. (That should say something about all of us as a culture!
Watch Buckwild Finale Sneak Peek Video
Buckwild is executive produced by John Stevens and Barry Poznick from Zoo Productions, and J.P. Williams from Parallel Entertainment. Lauren Dolgen, Colin Nash and Kristina Edwards serve as the Executives for MTV. Michelle Klepper is the Production Executive and Jessica Zalkind is the Talent Executive for the network.
What do you think? Are you happy Buckwild got renewed? Follow me on Twitter for more scoop on shows getting renewed as Buckwild.
Comments
comments