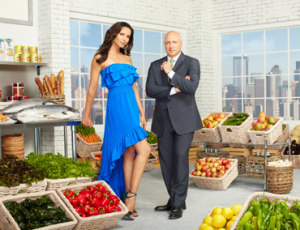 This year so far has seen a lot of shows already getting added to the lists of renewed shows of 2013 and cancelled shows of 2013. And this one is another long time running show that comes back, as Bravo renewed Top Chef for season eleven. "Top Chef," airing Wednesday, February 13 at 10 p.m. ET/PT, the Chefs experience an adventure of a lifetime in a glacial Quickfire. For the Elimination Challenge, Emeril and award-winning chef, Roy Choi cook an emotional meal to set the tone for the chef'testants. A panic attack threatens one chef's ability to compete. In the end, only two will be victorious and move on to the final rounds in Los Angeles. Guest judge Roy Choi joins Emeril Lagasse, Wolfgang Puck, Gail Simmons, head judge Tom Colicchio and host Padma Lakshmi.
And next week, recently renewed for season 11 Top Chef is starting the Casting Calls.
How to Audition for Top Chef season eleven?
Open calls for chefs interested in competing in the high-stakes culinary competition series will be held in cities across the country starting on February 11th.
For additional casting information and to download an application, visit www.BravoTV.com/casting. "Top Chef" season 11 casting calls are as follows:
AUSTIN
Monday, February 11, 10:00 AM – 12:00 PM
Uchiko
http://uchiaustin.com/uchiko
BROOKLYN
Wednesday, February 20, 10:00 AM – 1:00 PM
Talde
http://taldebrooklyn.com
LAS VEGAS
Wednesday, February 20, 10:00 AM – 12:00 PM
STK in The Cosmopolitan
http://www.cosmopolitanlasvegas.com/taste/restaurant-collection/stk.aspx
CHICAGO
Sunday, February 24, 10:00 AM – 12:00 PM
Girl & The Goat
http://www.girlandthegoat.com/
MIAMI
Monday, February 25, 10:00 AM – 12:00 PM
Michy's
http://michysmiami.com/
LOS ANGELES
Friday, March 1, 10:00 AM – 12:00 PM
The Foundry on Melrose
http://www.thefoundryonmelrose.com
What do you think? Are you happy Top Chef got renewed? Follow me on Twitter for more scoop on shows gettting renewed like Top Chef.
Comments
comments