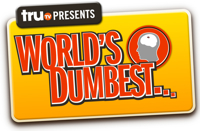 Let´s continue adding some shows to the lists of  renewed shows of 2013 and cancelled shows of 2013. In this case, with a show that is as certain to come back every year as can be: TruTV renewed World´s Dumbest for season 15th. The show that puts videos through a celebrity-commentator meat grinder. Billed by its producers as "the smartest dumb show on television," World's Dumbest… airs Thursdays at 10 p.m. (ET/PT), with the new season set to launch Thursday, Feb. 28.
This season, World's Dumbest… will include appearances by veteran commentators Danny Bonaduce, Todd Bridges and Leif Garrett, among others. Joining them is an outstanding roster of buzz-worthy comedic talent including Chelsea Peretti, Jared Logan, Rachel Feinstein, Chris Fairbanks, and Brendon Walsh. Each week, this self-appointed gang of cultural critics will provide hilarious commentary while presenting videos of the world's most idiotic suspects, drivers, fans, daredevils, competitors and partiers imaginable. In addition, the show's groundbreaking sound design, animation, original music and scripted comedy bits will take things further than ever before, with a lot of big surprises in store.
World's Dumbest… averaged 1.1 million viewers in its 14th season, up 7% compared to the prior season. The show also garnered 598,000 adults 18-49 (+11%) and 343,000 men 18-49 (+11%).
What do you think? Are you happy TruTV renewed World´s Dumbest? Let me know in the comments section. And follow me on Twitter for more scoop on shows getting renewed like World´s Dumbest.
Comments
comments