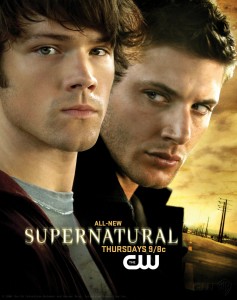 Somewhat big news coming to the lists of renewed shows of 2013 and cancelled shows of 2013, in this case, a show that´s a flagship veteran for a broadcast network: Supernatural, getting renewed for season nine. And to think that the show was thought to be ending last season, but after Warner Bros Studios managed to sign multi year deals with both show stars Jared Padalecki and Jensen Ackles, the door was open, so now Supernatural is renewed for season nine, making it the longest running show on The CW and closing in on Smallville as the longest ever on the network. I´m sure fans wouldn´t mind if Supernatural keeps on going for a few more runs.
The pairing with freshman breakout hit Arrow also helped Supernatural as it has seen its ratings go up 15% among total viewers from last season, 10% in adults 18-34 and 18% in adults 18-49.
If we see the three biggest shows on The CW: Arrow, The Vampire Diaries and Supernatural, and the pilots ordered, we can clearly see the direction the network is going under President Mark Pedowitz; towards Sci-Fi and genre shows. Another thing I for once, won´t mind.
What do you think? Are you happy The CW renewed Supernatural for season nine? Let me know in the comments section. Also, follow me on Twitter for more scoop on shows getting renewed as Supernatural.
Comments
comments