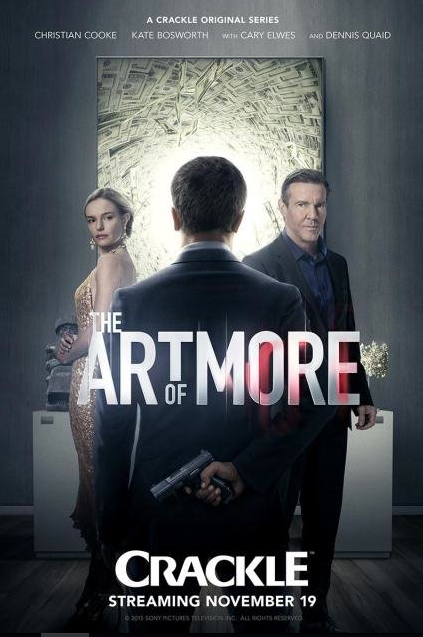 Crackle has a new show called The Art of More with an amazing cast headlined by Cary Elwes, Dennis Quaid, Kate Bosworth and many more in a very interesting take to expose the crime and intrigue behind the glamorous facade of New York auction houses.
In the premiere episode, called Heavy Lies the Head Auction house Parke-Mason sells the Davenport collection, launching the career of new account exec Graham Connor. Real estate mogul Sam Brukner's collection sparks fierce competition between Parke-Mason and rival auction house DeGraaf's. Hassan, a smuggler from Graham's days in Iraq, makes trouble.
The show has a lot of glamour in it, good cars, big time art, many top notch events and good whiskey, wine and champagne.
And of course, Cary Elwes. Any show that has him is worth watching, and this is not an exception.
I will go ahead and strongly recommend you to add this show to your to watch list.
The flashback reveals a lot about Graham Connor in an incident that happened six years ago in Bagdad.
Cary Elwes character says: "You know nothing about art, except how to steal it", and my inner Psych fan was very happy to see the cross reference with his character on that show: Pierre Desperaux.
There are lots of things in everybody´s backstory, so it is up for those back and forths this is the good one, this is the bad one. Probably, everybody is bad, and that makes it better.
Final note: Acting is great, photography is superb, and the styli9ng of the show is on point. Easily one of the best choices for a new drama / suspense show. The worst thing about it is the title though. Look beyond that and give The Art of More a try.
Will you give The Art of More a chance? Let me know in the comments section. Also, you could follow me on Twitter for more scoop on new shows.
Comments
comments