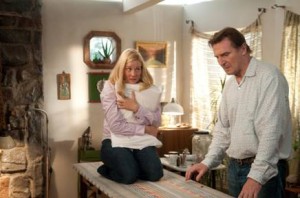 Next Monday, November 8th is the new episode of The Big C, S01E12, called Everything that rises.
Now that Paul Jamison (Oliver Platt) already knows about Cathy´s cancer, they are trying different treatments, such as a coffee enema last episode. In the next episode, Cathy visits the Bee Man, that will be played by no other than Liam Neeson.
Cathy tries a new angle and visits the Bee Man for an extreme treatment, where those stinging insects, she hopes, hold a cure to her cancer.
The casting spoiler news from The Big C is that the show is starting the huge guest stars coming, in this case with Liam Neeson´s appearance.
What is The Big C About? Plot
The Big C is a Showtime original series created by Darlene Hunt and starring Laura Linney.
Linney plays a reserved suburban wife and mother whose recent cancer diagnosis forces her to shake up her life and find hope, humor and the light side of a dark situation, while managing her immature but well-meaning husband, played by Oliver Platt. The Wire and Luther star Idris Elba will appear in at least four episodes as a love interest for Linney. Brian Cox will appear in the show as Linney's father. Cynthia Nixon has a recurring role playing a friend of Laura Linney's character. Reid Scott will play Linney's character's oncologist, Dr. Todd. The series was originally titled The C Word, but was changed because television series The L Word appears on the same brand.
The theme music for the show "Game Called Life" was created by the band Left over Cuties
The series premiered on August 16, 2010, with the sixth season premiere of Weeds. Academy Award-winning filmmaker Bill Condon directed the pilot for the series.
It drew the largest audience for Showtime in eight years for an original series premiere.
Will you watch The Big C with guest star Liam Neeson Monday november 8th?
Let me know in the comments section. Also, remember to follow me on Twitter for more The Big C spoilers and scoop.
Comments
comments