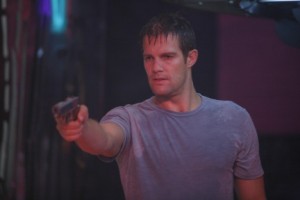 Bones spinoff The Finder is airing a new episode Thursday January 19 9/8C on Fox, and I had the chance to watch it advanced to tell you a little bit about it. (I will only talk about the first fifteen minutes of the show though, as not to spoil it). I already talked about The Finder Premiere best moments, and now it´s time to talk about the second episode called Bullets.
What is The Finder S01E02 Bullets About? Plot Synopsis
A former prison warden enlists the help of Walter to find a bullet that could prove the innocence of a death row inmate (guest star Mitch Pileggi) just days before his execution. Meanwhile, FBI psychologist – and Jeffersonian team member – Dr. Lance Sweets (guest star John Francis Daley) evaluates Walter's competency to consult on federal cases. In the process, Sweets begins to understand Walter's intangible gift and motivation to find the unfindable. Also, Willa attends a beach party and gets herself into trouble in the all-new "Bullets" episode of The Finder.
Best Moments and QUotes from The Finder s01e02 bullets
Warden: I believe he´s innocent. Why you ask; Jesus has told me that
Warden: There is a dress code in death row I´m afraid
Walter: Guy´s kinda weird
Leo: If you lie to us, I´m gonna bring you back to life so they can electrocute you again
Walter: That is the essence of what I do
Willa: I gotta warn you Kev, I´m a bad girl… on prbation
Isabel: You mean you are the one who gets to decide if Walter works with the police?
Leo: If Walter passes you can work together officially and Walter can get paid
Leo: Having an insane man in the chain of evidence a is a guaranteed prosecution failure.
Willa: Is this some kind of psychosexual abuse?
Dr Sweets: Does your mind play tricks on you?
Walter: My lawyer says no
Dr Sweets: Have you ever talked to an inanimated object?
Walter: Yes, but they rarely ever answer… rude
Dr Sweets: I work with several scientists and a former sniper. And I pay attention
And that´s it, first fifteen minutes, don´t want to spoil it. What do you think about The Finder? Will you watch it Wednesdays 9/8 C on Fox? Let me know in the comments section. Also, remember to follow me on Twitter for more The Finder scoop.
Comments
comments