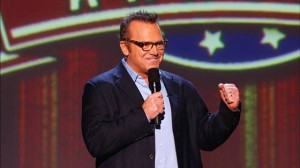 Showtime is continuing its tradition of good Stand Up Specials. In this case, Tom Arnold´s.
Iconoclastic comedian Tom Arnold will ring in the New Year on SHOWTIME with the debut of his first-ever stand-up comedy special, THAT'S MY STORY AND I'M STICKING TO IT – premiering on Friday, December 31st at 9:00 PM (ET/PT).  Best known for his work as comic relief in over 72 films ("True Lies," "Nine Months," "Hero"), Arnold takes to the stage to poke fun at his Midwest upbringing, his well-publicized marital follies and the absurdity of Hollywood.  He candidly details his hilarious, real-life journey in the public eye over his nearly three-decade career.  THAT'S MY STORY AND I'M STICKING TO IT is a Payaso Entertainment production, with Scott Montoya and Neal Marshall producing and Montoya directing.  The one-hour special is the latest installment of the network's on-going SHOWTIME LAUGH OUT LOUD comedy franchise, which is the hub of diverse, no-holds-barred, unedited comedy for premium television audiences.
Arnold began his career in comedy at the University of Iowa before moving to Minneapolis, where he won the Minneapolis Comedy Competition in 1988.  He then moved to Los Angeles to write on the highly successful television series, "Roseanne," before eventually serving as executive producer.  He went on to write, produce and star in his own television series, "The Jackie Thomas Show," "Tom" and "The Tom Show."  Arnold has established himself with both television and film audiences worldwide, having won such awards as the Peabody Award and a Golden Globe® Award.  Additionally, he helped put Fox Sports Network on the map with his hosting duties on "Best Damn Sports Show Period."  He recently returned to Fox Sports Network as both producer and host of the kids' baseball show "Kid Pitch" and can also be seen as host of "My Big Redneck Wedding" on CMT.  Arnold cornered the market on playing the resident comic relief in films like "Nine Months," "True Lies," "Hero" and "Austin Powers:  International Man Of Mystery."  He received critical praise for his roles in "Gardens of the Night," "The Great Buck Howard," "Good Dick," "The Year of Getting to Know Us" and for his role in Don Roos' "Happy Endings."  Other film credits include "Pride," "Animal Factory," "Soul Plane," "Cradle To the Grave," "Exit Wounds" and "The Kid & I."  Arnold is heavily involved in many charities such as The Race to Erase MS, the Elizabeth Glaser Pediatric AIDS Foundation, Best Buddies, Camp del Corazon, The Kayne Eras Center, Promises Foundation, Carousel of Hope, Arnold's Inner City Games, The Hollenbeck Christmas Giveaway, the Leukemia and Lymphoma Society, Special Olympics and the USO.
The SHOWTIME LAUGH OUT LOUD comedy franchise has premiered popular, provocative specials from some of the world's best and brightest comedic talents.  SHOWTIME LAUGH OUT LOUD continues to push the boundaries of televised comedy with exceptional comedians such as Sarah Silverman (Jesus Is Magic), George Lopez (Why You Crying?), Bobby Slayton (Born to be Bobby), Paul Mooney (It's the End of the World), Mike Epps (Under Rated…Never Faded & X-Rated), Kevin Pollak (The Littlest Suspect) and Jamie Kennedy (Uncomfortable).
Comments
comments